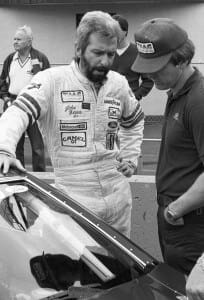 Checkered Flags and Fly-Reels
It makes perfect sense that a retired race car legend would invent and manufacture high-end fly-fishing reels that are innovative, precise, and beautiful. That's because precision met passion for Jon Bauer, who went from winning races and championships in the '70s and '80s to earning fly-fishing industry awards over the past 20-plus years.
In the early days, Jon and his team engineered racing parts for their cars, which included Porsches, Mustangs, and T-Birds. Later, Jon revolutionized fly-fishing reels using many of the same engineering concepts that helped him cross the finish line under the checkered flag. "It takes creativity and innovation to gain and maintain the competitive edge," he says. "We would develop widgets for the race cars that would provide advantages that led to winning races. I used this same concept to turn my fly-fishing hobby into a business venture."
Jon freely admits that fly-fishing is still his favorite pastime, and that he chose to move his fly reel manufacturing business from California to Ashland, Oregon, because of the beautiful rivers and quality of life. As an avid angler and fly-fishing enthusiast, Jon wanted his staff and himself to have the opportunity to test their products on a daily basis on the local rivers.
Jon and his Ashland team aren't alone in their love for fly-fishing and their need for using quality reels. Fly-fishing has been around for centuries, but when Robert Redford's blockbuster movie "A River Runs Through It" came out in the early 90's, fly-fishing rapidly gained popularity. Not long after the movie made its debut, so did the new Bauer fly reel, which changed the industry with its innovative design. Today it is one of the most recognized brands worldwide because of its function and uniqueness.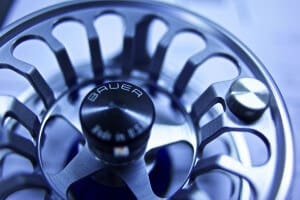 While fly-fishing is popular in the Pacific Northwest, it is a global sport. Bauer fly-fishing reels are manufactured in Ashland, Oregon and are sold and used worldwide. Each reel is made by hand in the Ashland facility, and usually under the careful eye of Jon who says he never gets bored with his creations. "I have always been a hands-on kind of guy," he explains. "And since I love to fly-fish, I hope to enhance the experience for others."
Jon credits his success in both car racing and fly reel manufacturing to innovation, his business background, his connections with great engineering minds, and his ability to form teams that make it happen. He has been impressed with the availability of high quality employees in Southern Oregon, and the support of organizations such as SOREDI.
"We are fortunate to live in a region in which innovation is encouraged and supported," he says. "And I believe there is a lot of respect among the local business community. We are all contributing to the economy and doing our part to enhance the lifestyle in Southern Oregon."
Bauer Fly Reels
585 Clover Ln #1
Ashland, OR 97520
www.BauerFlyReel.com
541.488.8246
Print Version: Checkered Flags and Fly-Reels