Pursuing Sweet Passions
GRANTS PASS, OR – Something sweet happens when the mind of a mechanical engineer mixes with his entrepreneurial spirit to stir up his passion for making the best English Toffee in the world. It's an award-winning, all-natural, gluten-free product meticulously made in Grants Pass, Oregon, and sold on store shelves and on the Internet nationwide.
It's Cary's in Southern Oregon, which uses a secret, delicately created recipe for making artisan candy that is as exact as the process by which it is manufactured. It's not too hard, nor is it too soft. It's just right, as thousands of Cary's Gourmet English Toffee fans are attesting.
Named after its founder and president, Cary Cound, the English toffee enjoyed 30 seconds of fame as the official 'Snack of the Day' on Rachael Ray's show. "My daddy would love this and I'm going to send him some," announced the celebrity chef as she held a package of Cary's Dark Chocolate Almond English Toffee up to the camera.  Meanwhile, believers of the brand are growing in numbers based on annual consumption of 86 tons of candy shipped to homes, grocery stores, and boutique specialty food stores around the country.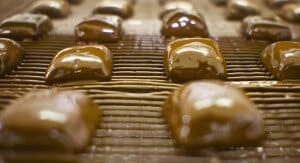 Cary's English Toffee even appeared in VIP goody bags at the Oscars and found its way onto Oprah.com. And though the product is packed and shipped daily, the Cary's Factory Store is also becoming a Southern Oregon visitor destination. "In the next five years, I see Cary's as a place on I-5 where you just have to stop and shop," says Cary. "Who knows, maybe visitors will find a Lucy and Ethel working on the line."
General Manager Neal Cournoyer enjoys promoting the company' high quality specialty product. He also sees that Cary's reputation as a strong regional brand is gaining momentum, and the candy-making facility is known as a place where employees enjoy a "lighthearted" workplace environment while earning decent wages. "The culture of Cary's is set by Cary himself," he explains. "The reason people want to work here is because he is inspiring and encouraging."
Cary says his company's culture is one that values people and promotes balance. "Our employees come to work refreshed because they have spent the weekend on the river – they have been out enjoying the beauty of Southern Oregon." And, Cary says, he sees a trend among corporate leaders who are leaving the "push" of the big city behind in order to pursue their passions and find peace. "I encourage those coming here to consider their culture very carefully. It's possible to relocate to Southern Oregon, but don't bring your old culture of 'rush' here, Southern Oregon is about business and balance."
Cary's enthusiasm for innovation and support of like-minded entrepreneurs becomes evident when he speaks on the subject. "An entrepreneur is a person of passion in pursuit of a way of expressing that passion," says Cary, adding that his expression of passion came in the form of delicious specialty toffee inspired by a family member. "It's important to be patient – to give passion the time it needs to be fully birthed."
Cary's 'obsession' with English toffee started when his grandfather-in-law gifted him with a marble slab and a recipe for making the family's traditional English toffee. It was good, but Cary began to engineer small recipe changes over time until the English toffee was so delicious that tasters began to declare that the rest of the world needed a bite.
In 2001, Cary founded his name-sake business with the help of SOREDI. "They were there at the beginning when I had this crazy notion of creating a toffee company." he says. "We're here today because of the partnership we established. SOREDI was a true a partner when a partner was needed most."
Cary's of Oregon
413 Union Ave.
Grants Pass, OR 97527
www.carysoforegon.com
541.474.0030
Print version: Pursing Sweet Passions | Cary's of Oregon