(Medford, OR) — Collaborative Publishing Solutions (CPS) is working on two community service products which will be supported and promoted through a custom multi-media campaign, one of which is the five-county Community Emergency Resource Guide.
"Our team always imagined an informative and collaborativ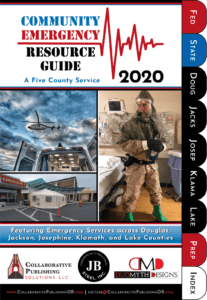 e publication. However, the amount of interest has exceeded our initial vision, resulting in a bigger final product," says Char Hodel, Owner & Publisher of CPS.
CPS is thrilled with the increased enthusiasm and participation, but due to its larger size, has changed the publication date to meet additional production time. Hodel says, too, that this week's meeting with all five of the counties' Oregon Emergency Managers calls for additional time for each to review their county sections and ensure that their respective data is as accurate as possible.  The additional time for this process is critical as each of the managers has been entirely immersed in the pandemic at hand. The first county to be uploaded begins with Jackson, followed by Josephine, Douglas, Klamath and Lake. The first section should be available in late June.  CPS will communicate specific dates the public may access the Guide over the next two weeks.
According to Hodel, CPS anticipated having a certain number of emergency contacts for Jackson County — approximately 100 — and now they have closer to 200 emergency listings, plus articles, Tips for surviving an emergency, Safety/Emergency Q&A's, and much more. CPS reports that they have virtually doubled the size of the listing section just for Jackson County, and they anticipate adding even more information before the project's completion.
Additionally, Hodel explains one of the main focuses of the guide is to highlight the frontline experts who work day-in and day-out to protect and serve their communities and citizens. The heart and soul of this publication is about who we turn to in times of crisis. It is a necessary and important piece that communities use so they can manage during an emergency. It also ensures a safe, caring community environment that families can depend on to raise their children and maintain a high level of safety for citizens of all ages, Hodel says.
The guide's ultimate mission is to work collaboratively with as many local emergency experts as possible and get their insight on planning and creating an effective guide. Hodel knows that with their help and experience, they will build an up-to-date publication that matches the high standards and quality our Southern Oregon communities are known for in the way of emergency, safety and health services.
"The emergency, safety and health experts in our counties work tirelessly to protect the communities in which they live. Their experience is invaluable and our team will follow their lead with regards to advice, the proper steps to take during an emergency, and other important information we provide to our citizens," says Hodel.
About Collaborative Publishing Solutions
Collaborative Publishing Solutions was founded by Charlotte Hodel, a national, award-winning communicator and credentialed executive with over 35 years of publishing, communications, and economic and community development experience in three states. Based in Southern Oregon, CPS develops a variety of quality multimedia products including directories, guides, resources and community service publications. With a team of eight diverse media contractors, CPS supports the positive growth of communities and individual businesses. Learn more at collaborativepublishingor.com.
CONTACT:
Char Hodel
Owner/Publisher
480.220.9050
success@collaborativepublishingor.com