It hardly seems like it could already be 4-weeks since the ravaging fires wreaked havoc throughout our region, particularly the Almeda and Obenchain fires. While the smoke in our region may no longer represent those devastating, frightening days – it is yet a sad and heavy reminder that our community is hurting and vulnerable.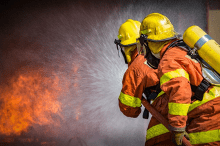 Our gratitude to the first responders who risked their lives on our behalf is heartfelt. For those who lost homes, businesses, cars, animals, family, neighbors, or friends, we offer our sincerest condolences. Most of us might readily admit there are just no words for a time such as this.
As we all scramble now to address the enormous complexities we now face, the scope of the long-term impact of this disaster is daunting.  Bright minds are gathering to provide resources and brainstorm best next moves to quickly stand up temporary housing – while also trying to incorporate longer term solutions. There is not any one solution – a magic wand at our disposal – that will be the answer. And it seemingly just cannot happen fast enough.
We probably all have visions of being a superhero ourselves – the person who steps in to save the day with the brightest and best solution.  We all want to show up just in time to throw out a lifeline and restore hope, provide 2,800 new affordable homes in our region for our displaced citizens, and restore economic vitality to the businesses that are no longer on the map.
We've likely all heard the saying "go big or go home". I'd like to suggest just the opposite. Connect with one person, one business, one family at a time.  Make one small move. Act now! It could be just a listening ear, a hand on a shoulder or simply being present with another as they grieve that certain, unexpected loss that has rocked their world.
It could also be passing along a time-sensitive resource to a local business that is still suffering economic injury due to the pandemic. To that very specific end, we have an action item for you…
SOREDI is calling upon you today to be a superhero!

We need your help in reaching out to the business community to be sure every business that is suffering through this pandemic, knows there are still some financial resources – available for their consideration. These are grants, ranging from $2,500 to $50,000 for employers with 25 or fewer jobs. Those who have received funding already are eligible to apply for an increase!
Here is also a link to the recent press release issued regarding this new allocation of grant funds in our region (Link to PR). Many thanks to our partner economic development district, CCD Business Development Corporation for this critical collaboration!
Round 4 of funding comes with a new set of eligibility requirements which opens the door for more businesses to apply.  Here are some key points:
The business or 501c3 non-profit is in Jackson or Josephine County. 
The business is actively registered with the Oregon Secretary of State, if required by Oregon law. 
The business has 25 or fewer employees. 
The business can demonstrate a one-month decline in sales of 25% or greater. (Any month between March 1, 2020 and August 31, 2020 compared to same month in 2019)
The business has not received over $100,000 in federal funding (PPP, EIDL).
The application is available at www.soredi.org/covid/matching  or by contacting SOREDI (541) 773-8946 or emailing grants@soredi.org. Please note there is a November 11 deadline!
You can be a vessel of hope right now and provide direction for that small business you know that is struggling to stay open – or rebound from the fires.
You are the superhero!
Many thanks in advance for your part in helping our region rebound, renew and make a remarkable recovery!
Sincerely,
Colleen Padilla, Executive Director