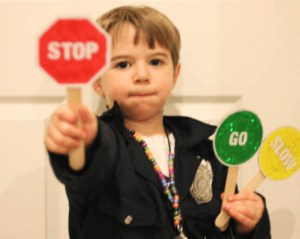 Many of us likely have fond memories of playing Red Light, Green Light on a spring day out on the lawn, or perhaps in our grandmother's basement on a rainy day. The game is an age-old childhood favorite, spanning many countries.
Were you one of those kids who had to go back 10 steps or return to the starting line when in anticipation of a green light you jumped forward? Me too.
Only it was a game, no big deal really if you did happen to jump the gun. No harm, no foul.
…Unless you are a mindless adult driver and are actually in a vehicle at a busy intersection. And you decide to go on a red light. Yes – this is my story. And my last Friday.
Besides my "failure to obey a traffic signal" citation – which is painful enough, my 3-year-old Pearl is expected to be a total loss. She was about to don new tires this month, enjoy a warm sudsy bath, and get a replenishing 5-quart drink of 5W-30.
Gratefully, no serious personal injuries to speak of for me or the other unsuspecting driver after we collided. Thank you, Lord! I am also grateful for a witness at the scene who, after kindly creaking open my bent-in door to see if I was okay, confirmed that I had indeed proceeded forward on a red light. Oh.Rats.
Not even a dark shade of yellow, I just decided to go on that red light. I have no explanation.
What was the first thing I thought about when I stepped out the car, amidst the smokey powder of two inflated air bags and a foggy surreal mindset? My dad, of course. What would he say right now?
Dad was an auto body repairman for well over 40 years at Crater Lake Ford in downtown Medford. He also gave me one of my first jobs in the body shop sweeping the garage, doing some filing, and cleaning his office. On occasion, I even sanded a few cars. Even as a much smaller child I can remember frequent trips down the street to Dell's Hamburgers for a 50-cent burger and a walk across the street to Jackson County Federal Savings and Loan where we opened my first savings account. Dad was our go-to man for minor fender benders, roadside rescues after spinning out in snow, and multiple "locked my keys in the car" and "I ran out of gas" moments. He was well known in his career for his auto-body craftsmanship. Dad died about 3 years ago and he is missed dearly by many.
I distinctly remember another red-light moment episode shortly after he passed away. Only this time, it was connected to those signs that say, "Do Not Turn on Red Light." I had been having many red-light moments related to grief that I was seemingly ignoring to my own detriment. I was charging forward to complete one task or another. I had a job to do.
Even though there may be two or even three of those "do not turn" warning signs at a particular intersection, how many times does the driver turn anyway? How many times have you turned anyway and forced your way when you should have stopped to pause and reflect?
Ironically, if you check out Wikipedia's take on what the Red Light, Green Light game teaches – you will learn that it "teaches self-management, specifically self-regulation." This revelation certainly does not make me feel better – clearly, I failed that test last week!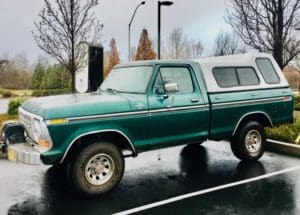 So, as I await my insurance adjustor's assessment of Pearl's likely fate, I am enjoying my other ride – Dad's 1978 F150, with a 300 in-line six (yes, I had to ask my son "what does that mean" and I still can't explain it; no, the truck is not for sale!) While taking care of some deferred maintenance for "Grandpa" in the form of a new radiator and belts, I have been pondering my next vehicle and appreciating how much I have come to love technology. A few staff members right now are gasping and singing hallelujah!It's true – I am turning over a new leaf. How did we ever survive without seat warmers? Or a back up camera? Or the ability to make a phone call from the car, hands free? And how about that little toggle that adjusts your side view mirrors – right there at your fingertips?
Turning now to SOREDI business and a follow up on my last blog about stewarding resources, we are moving forward with many needed technology investments. But not before stopping at the traffic signal. We are also stopping to evaluate all our Processes, Policies, and Procedures. You might say we are looking both ways before moving forward with our own version of PPP.
If we were operating alone, like I was in my car last Friday, we might be prone to rush blindly forward or perhaps defiantly turn on that red light anyway. I know firsthand – it's a bad move! Not only have I come to appreciate the guidance of our 6-person executive committee in providing a green light for prudent financial and structural moves, but I am grateful for the full 28-member board's insight and its call to stay on course. Everything we endeavor to do must be relative to our mission and implementation of the One Rogue Valley Strategy. Visit the current board roster here to see who is behind the wheel.
Our mission to help businesses grow and expand in Southern Oregon has not changed. We still stop to listen, seek to find meaningful resources to help business launch, relocate, and prosper, and aim to promote and influence economic vitality within every community.
What may change is the vehicle(s) we use to get there.
B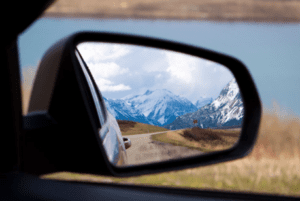 y the time I have "Grandpa's" right side mirror positioned correctly to see what's coming behind me and see my blind spots, I will probably have found my next technology-adorned ride. In the meantime, I could really use a coffee cup holder. It's hard to roll up the window while holding my hot caramel-mocha with coconut milk and smidgeon of whip. Let alone, hold it while driving my four-on-the-floor stick shift.
Here's to obeying every traffic signal and safer travels!
Colleen Padilla, Executive Director