Did you make it to The Prospers?
We hope you did not miss our debut of our first ever virtual live-streamed annual meeting on June 25 – which you can still view here. If you did participate, we hope you enjoyed the show. Though we hope that you might have overlooked the bloopers, we also hope you laughed hysterically. We did.
It was bit of risky business endeavor. Afterall, we are business development managers, not show producers. But as we have said before and reported in The Prospers newscast, we have been rapidly pivoting to respond to new opportunities. This is certainly no time to stand still.
When the virus also caused us to cancel our in-person annual shindig, creative staff minds went to work, and a bit of innovation was born. We stepped way out of our comfort zone. We dressed up because we needed the occasion to do so. We were a little cheeky. And we resorted to some acronym smack.
After the production, the whole cast – Spur, Lucy, Nutmeg, Ginger, Yogi, Bug-a-Boo, and Road Runner – broke down the set and gathered at Caldera Brewing to break down in laughter while asking ourselves basically, "what were we thinking?"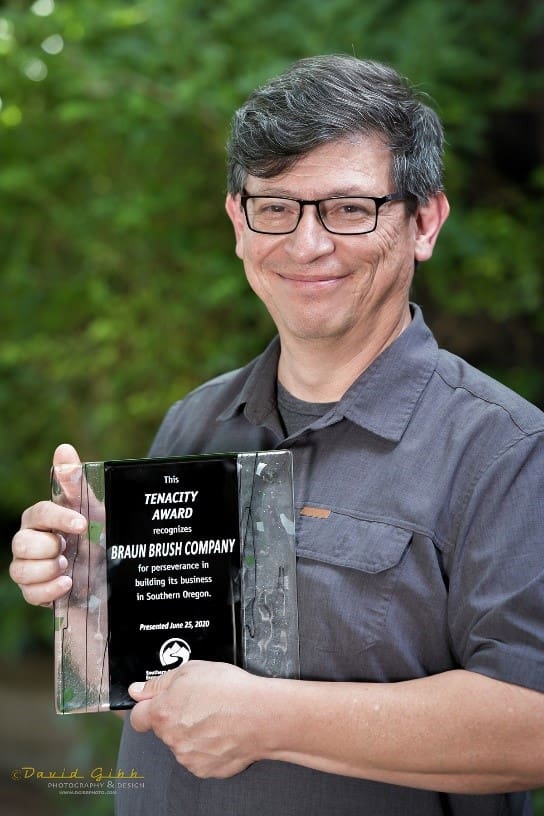 Braun Brush, our 2020 Tenacity Award recipient (Randy Pena, pictured) might have changed their mind mid-stream when deciding move across state lines, learn new state regulations, and set up shop in a smaller than ideal facility. They were probably a little bit out of their comfort zone. Yet today, as the 4th generation family-owned company surpasses 145 years in manufacturing, its tenacious spirit for excellence and innovation is leading it to build a new facility to accommodate its growth; they expect to be in their new Medford facility by January 2021. Some might say that it is a risky move to expand in an economic downturn.
I am wondering if Nathan Miller, founder of Rentec Direct – our 2020 Ingenuity Award winner – might have had a similar moment when he thought he might be out of his league. Or maybe he had a billion moments of risk-aversion when he was creating his off-the-charts successful software company. It was risky business – staying up into the wee hours of the night to follow a dream, without formal college training. Why not just maintain status quo as CIO of the wireless software billing company, no doubt a noble profession in and of itself?
Travis Boersma and his brother Dane might have thought to leave the region and seek careers elsewhere when the family dairy business they knew and loved changed course. They chose instead to head to the barn, crank up their rock music, and create a new brew. They did not give up and pursued instead a risky new endeavor that is practically a household name in our region and beyond. Dutch Bros is now 12,000 employees strong in nearly 400 stands, across 7 states. That bold move earned them our 2020 Prosperity Award and they currently roast about 100,000 pounds of coffee weekly.
Imagine how risky it might be to collaborate with 14 neighbors. You may not know them well at all and worse yet – your political, cultural, and religious persuasions may not align at all. Gasp! But you see a glimpse of a greater game to be played and big gains to be made for the neighborhood when you come together as one. That risky move along with their joint business-friendly proclamation is exactly why we named all 15 jurisdictions in our region, now affectionately referred to as One Rogue Valley, as our 2020 Collaboration Award recipients.
Quantum Innovation's Stacie Grier received our Inspiration Award this year. She has a passion for kids, for manufacturing, and for seeing dreams come to fruition. She had an idea well over 10 years ago to create an opportunity for our very own Rogue Valley youth to learn about all the great manufacturing and technology careers that are tucked away on flag lots and side streets throughout the region. She knew first-hand how rewarding manufacturing could be, having worked for one for 13 years, followed by stints with The Job Council, Junior Achievement, and College Dreams. So, she gathered a few willing partners to ambitiously dream with her and create Careers in Gear. This year over 1650 high school students attended, 60 businesses exhibited, and over 200 business volunteers cheerily interfaced with students, encouraging them take that step, follow their heart, and go big.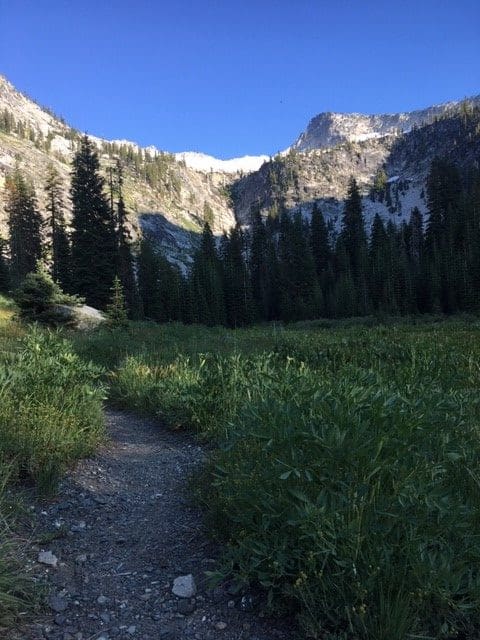 If you want to have big experiences and be inspired, it may take a crazy hard, risky scramble to get there (Grizzly Lake, Trinity Alps pictured). You may endure some heart pounding moments, shaky legs, aching muscles, a sweaty brow, and general fatigue on the way there.
You may doubt all 16-plus miles of the journey. You may wonder – is that a bear outside my tent? Yes, there is going to be some risk – and pesky mosquitoes.
But then you climb over that last boulder to see that spectacular glacier, crystal clear lake and 600-foot waterfall and think to yourself – what took me so long!
Life itself is risky business! Especially in today's economic climate. What risk do you need to take to reach new spectacular heights or see your business soar? I hope you are dreaming big, stepping out of your comfort zone, and leaping over those boulders!
On behalf of the entire SOREDI staff – thank you trusting us to serve you. We do solemnly promise though, despite our affinity for Tom Cruise, to never slide across the floor in our underwear!
Dream Big!
Colleen Padilla, Executive Director
Trail Name "Spur"