Like many of our partner agencies and Chambers of Commerce, we always look forward to sharing stories of success from among the business community. In particular, we look forward to recognizing businesses for their stellar efforts and work that helps our communities thrive.
When we realized a few weeks ago that holding our 33rd annual meeting would simply not happen in this current social-distancing environment, we were really disappointed!
Our spirits are a little weary. Maybe yours are too, right? However, staff quickly discerned that now more than ever we need to keep celebrating the little wins and encourage one another in every way.
We determined the show must go on! We would not postpone, and certainly not cancel, our annual meeting. It was time to set the stage for a creative change-up.
We just couldn't bear to drop the curtain on our Prosper awards – which are given annually for tenacity, ingenuity, prosperity, collaboration and inspiration. In fact, the 200-250 attendees at our annual dinners make it a point to tell us yearly how much they look forward to this event, where they can hear first-hand from a handful of southern Oregon stars (among a galaxy of many) that help make our region shine.
All that said, this year's annual meeting may be unlike any other black-tie event you have ever attended. No snake pit to offer this year (2019). No Caddy-Shack blindfold putting (2017), no Rolling on the River (2015). We're rebuilding our sets for a remarkable twist on the Oscars.
We'd like to present to you… The Prospers!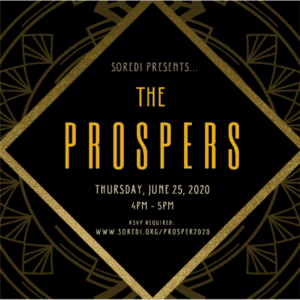 It is another virtual zoom meeting, of course, but this is one roll call you do not want to miss! Registration will be up in just a few weeks and there is no cost to participate, but we are rolling out the red carpet for you. If you are one of the first 100 ticket holders – you will receive a curated and personally delivered VIP Home-Viewing Box the week of The Prospers.
Your VIP box is sure to be packed with sweet and salty local snacks, swag, and potentially a golden ticket to win a prize! This is all possible with grateful thanks to our many sponsors which include Banner Bank, Josephine County, Cow Creek, Tekmanagement, Avista, Pacific Power and Nice Badge.
When I was younger my grandmother would tell me that "a cheerful heart is good medicine,
but a crushed spirit dries up the bones" (Proverbs 17:22). She might also say why stop at just one piece of encouragement when there might be two?
Next: I do have another piece of encouragement (a sneak preview of sorts) to share as well.
The success of business is everything … as we are all keenly aware. SOREDI and many partners are diligently working to find solutions and resources to sustain others.
We are grateful to announce that SOREDI has been awarded grant funding from the Oregon Community Foundation. It's not a billion-dollar package but it is a $50,000 nugget of cheer what will help SOREDI, a few key partners, and a few micro-enterprises persevere. We can't wait to tell you more at The Prospers.
If you've been thinking that you might like to also help business prosper – right here in Southern Oregon – we have an opportunity for you through the Oregon Community Foundation. You can make a charitable donation today to the Oregon Community Foundation and designate your contribution for Southern Oregon. Those funds will come back to our region to help us continue making small enterprise grants.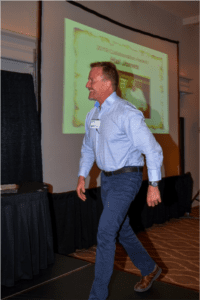 Since tickets to The Prospers are free, perhaps you'd like to consider a donation instead to OCF. Large or small, your contribution may just be the good cheer that is the much-needed salve for a local small business that is struggling to survive COVID-19.
We are grateful to the Oregon Community Foundation for their support. Here is a link to learn more about OCF and donate: https://oregoncf.org/covid/give/
You also inspire us! Maybe like Hal Jones, Medford 549C School District (pictured), you might just be the next Inspiration Award recipient.
See you at the Prospers!
Colleen Padilla, Executive Director