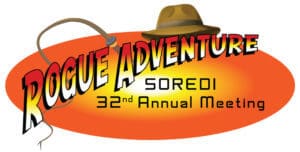 Time really does fly when you are on a great adventure! This year at SOREDI has been full of many roguediculous moments, pivotal action steps, and adventure as we've pursued greater things for the good of our Southern Oregon business community and every citizen. We can't wait to tell you more!
So we are pleased to announce that our 32nd Annual Meeting – aptly named Rogue Adventure –will be held Thursday, June 27 at the Ashland Hills Inn, Ashland. You can expect nothing less than what you have come to enjoy at SOREDI Annual Dinners – an evening packed with business awards, networking, culinary delights, highlights of outcomes achieved over the previous 12 months, and of course, great adventure.
You can look forward to hearing about all the Southern Oregon gems we are proud to serve in Southern Oregon – from Butte Falls to Cave Junction, Ashland to Grants Pass. Fifteen jurisdictions make up this region called Southern Oregon, that we consider a crown. We will leave no stone unturned as we map out your great adventure at this year's Annual Dinner. We fully expect you will come away inspired by all the assets and amenities the region has to offer … people, place, community pride, and roguediculous determination.
And what would a SOREDI Annual Dinner be without great prize offerings and an opportunity for you to step up your roguediculous game to help us move forward as the most business friendly region on the West Coast?  We are guessing you'll learn about something new so that when a visitor or prospective new business asks you why they should seriously consider relocating or expanding to our region, you will be ready to respond with enthusiasm!  What is your 30-second elevator speech for Southern Oregon?
We look forward to telling you more about the robust regional strategy we are undertaking even now, that will help craft our next 5-10 years of focused and outcome-based initiatives, as we champion regional perspectives and action in Southern Oregon. We call that Strategic Doing. You are important ambassadors in the effort! Are you ready for your own rogue adventure?
We also look forward to telling you about SOREDI Quest – an educational tool in the making – that connects students with great companies based right here in Southern Oregon. Likewise, we'll share a bit about the summer internship program we are facilitating with our Business Education Partnership and our 3rd annual Tech Tour. Did we mention the business-friendly proclamation that all fifteen jurisdictions have issued?
Come learn who will be our 2019 Prosper Award recipients for Tenacity, Collaboration, Prosperity, Ingenuity, and Inspiration. Award recipients this year represent manufacturing, agriculture, and … well, we can't tell you everything. You'll have to come have dinner with us to find out the rest!
Good news is just impossible to keep to ourselves. We are sure you'll agree it is worth sharing. Come and learn, and then join us in sharing the great story of Southern Oregon.
Your Rogue Adventure awaits! Registration is available now. The very best deal we can offer is for you to buy a table and to fill it with your clients, visitors and best friends. Don't miss out! Register and send out your invitations: Thursday, June 27, 5-8 pm.
Thank you for your continued support – you are Roguediculous!
Here's to your adventure,
Colleen