The panther in my yard has been beheaded. Some believed it to be a dinosaur or dragon or maybe a monster. Indeed: it was a great conversation piece.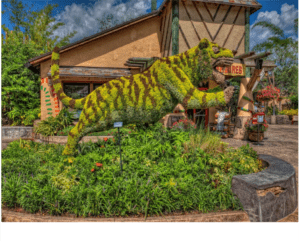 However, a few weeks ago at 3:45 am there came a loud swooshing sound that made my 18-month puppy jump off the bed in a fright. I figured I ought to jump up too and check it out. Alas, it was not Santa on the roof.
For the record, I am not harboring a pet panther. But I do – or rather did – have a prickly panther of topiary wonder. Not quite as spectacular as the tiger topiary that is pictured, but none the less a work of art. Until it was beheaded and became the blob.
It was a masterpiece along the chain link fence that was cultivated by my dad probably more than twenty years ago. Dad outlined it with auto body spray paint and wired in a car reflector for its eyeball.  At Christmas, the panther was even adorned with holiday lights and it had come to be quite the landmark along the country road I live on – particularly useful when giving directions.
It was a prickly bush for sure, with inch-long thorns, maybe 20 feet long by at least 12 feet high. Trying to prune it every other month was a project indeed, requiring my ladder, an adventurous attitude, and a good set of impenetrable gloves!
The neighbors had been particularly good in advising me when it is time for a snipping and touch up.  I have noticed a few walkers lately wondering what transpired that not only beheaded my panther, but took out part of a hedge on the south side of the property, the lamp posts, and a sprinkler head. I have not yet sent out the Memorial notice.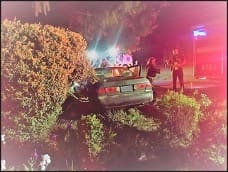 It is a wonder that the driver (and passenger) who left the pavement in favor of my soft lawn did not happen to meet up with the 50 year old elm tree and its 4-foot diameter trunk, just 8 feet or so from the ruts that now grace my front lawn. Better the ruts than otherwise, I suppose. Gratefully, the ambulance pictured was not needed.
As you have likely come to expect there is a lesson to learn from this recent experience – other than don't forget to get the driver's insurance information.  Yes, standing in my slippers and robe at 4 am (after checking to see if the passengers were okay and calling 911), I wasn't in my right mind. After all, my panther had just been beheaded!
However since then, I have been thinking about the fabulous work of so many partners who are assisting  SOREDI as we meet weekly at the Phoenix Civic Center, listen to concerns of hurting businesses, and assess what resources may be helpful to any business or citizen that happens through the door. Special thanks to Rogue Workforce Partnership, Energy Trust of Oregon, Avista Utilities, United Rotary, Collaborative Publishing Solutions, and Commissioner Dotterrer for already having participated with us in our first two weeks.
This  collaborative effort is primarily to convey to the business community how vital they are to our communities and the entire region's economic stability.  Even if we only get to connect with a few businesses on any given week, there is a lot more going on to help businesses rebuild and recover in varying degrees behind the scenes.
We are cherishing the opportunity to connect in person again with so many partners, catch up on program details offered by various agencies, and brainstorm new opportunities. And we show up with Puck's Donuts and coffee cards. What is not to love about this sweet gig?!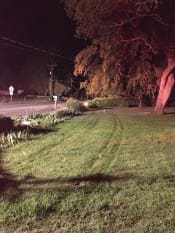 Seriously though, we have missed connecting with others on every level and are so glad to be getting back to business in Phoenix, Talent, and beyond. And we are appreciating again how each of our agencies  simply can't be all things to all businesses. We are constantly revisiting our tool kits, recalibrating, evaluating where there may be duplication of services, and staying in our lane. This effort is actually intentional and called out as an important tactic in our One Rogue Valley Strategy.
Getting out of our offices – and out of our own heads – to listen and serve is exactly what SOREDI was chartered to do. We have done many things in our 34-year history and frankly we sometimes have a hard time saying no to a request.
On occasion we have stepped out of our lane because of pure exuberance to meet the needs of a business. And then the economic climate causes us to pivot differently, streamline, and swiftly realize just how important our partners are and that they may be poised to meet a particular need much better than we are.
The heart of SOREDI is all about business retention and expansion. We are wildly serious about business development and we are working hard every day to deliver exceptional professional services for the good of our business community.  Unlike the wayward car that drove through my yard, we are staying alert and staying in our lane!
If you have a business need, please call us, or come see us on Thursdays at the Phoenix Civic Center, 9 am – noon. We will set aside a donut and look forward to the opportunity.
Sincerely,
Colleen Padilla, Executive Director