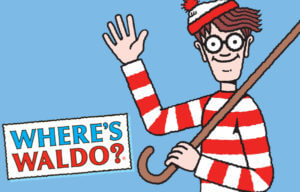 Do you remember Where's Waldo? There is a striking correleation between this 1987 illustrative creation and SOREDI.
SOREDI's former Executive Director Ron Fox frequently commented on how diverse the base of manufacturers in Southern Oregon has become over the last 40 years saying that "the breadth of manufacturing in our region is a mile wide, but only an inch deep." According to the Oregon Employment Department, there are well over 400 local companies that classify themselves as manufacturers. But where are they?
It's the story of "Where's Waldo?" revisited. Waldo, the primary character, is essentially on a travel adventure of sorts visiting many interesting locales; the reader is challenged to find the various tools he has inadvertently left behind (like his walking stick, binoculars and camera).
SOREDI's adventure and daily work is similar to "Where's Waldo" in that we are continually attempting to locate and visit a growing and diverse host of cool, specialized manufacturers in our region. Businesses that are tucked away in every nook and cranny, in non-descript industrial buildings and garages, making it particularly difficult to find them. Unlike Waldo though, we are purposeful and intentional in our quest to bring tools and opportunity to these companies. That is, when we can find them. 
Business development outreach has always been the heart of SOREDI's work and we are currently stepping up our game plan to reach more local companies. Helping our existing companies succeed is priority one. And while it is also our job to respond to recruitment leads and court new companies who are interested in Southern Oregon, the return on our membership's investment in SOREDI as the region's economic development agency is highest when we collectively retain thriving and innovative businesses.
Manufacturing, in particular, remains a critical industry in Southern Oregon. The majority of sales and customers for traded-sector companies are outside our region, which brings in new revenue that circulates 5 to 8 times, supporting the retail and service sectors.
On Friday, September 27, SOREDI will facilitate our 3rd annual Manufacturing Summit at the Table Rock Campus of Rogue Community College in White City. This event was created to highlight the importance of manufacturing in our region and bring manufacturers together for education, inspiration, and sharing of best practices.
SOREDI has worked hard to create a relevant program each year that has something for every team member. From management to the plant floor to human resources to accounting; this year's "GET REAL" theme promises to provoke thought processes and tactics around how to future proof your business reality.
Co-Founder and former CEO of Eugene-based Ninkasi Brewing, Cheryl Collins, will deliver the keynote address and discuss how companies can transform their culture and adapt to change. Guests will also have the opportuity to attend two of four breakout sessions covering topics ranging from the use of augmented reality to communication with employees to cybersecurity to fraud detection.
Registration for the Manufacturing Summit is available now. Your ticket includes a light breakfast and lunch. The event begins at 7:30 am for networking and concludes at 2 pm.
So back to "Where's Waldo." We need your help!
You probably have a least one associate or acquaintance who is an innovator or manufacturer. We need your help in sharing the word that numerous passionate business development resource providers like SOREDI, and all of the Manufacturing Summit Sponsors – Umpqua Bank, Oregon Manufacturing Extension Partnership (OMEP), Rogue Community College, Moss Adams, Energy Trust of Oregon, and Rogue Workforce Partnership – are standing by with tools and resources to aid in their manufacturing success.
Share the word and perhaps you will spur on the next great Southern Oregon success story!
Colleen Padilla, Executive Director
Trailname: "Spur"