Common Sense
A vacation from hectic Central California first brought Jim Hendershot to Southern Oregon. At the time, Jim was a highly sought after consultant in the quickly growing wireless industry. He knew he wanted to leave overly regulated California to start his high-tech engineering and manufacturing business. After his vacation, he and his wife returned to Grants Pass, and bought a property in the country with shop space and Radio Design Group, Inc. was soon in business and growing fast.
As the business outgrew Jim's work-from-home setup, it first relocated to Grants Pass, and then two years ago, they built a new headquarters and production facility in the town of Rogue River along the I-5 corridor.
The city of Rogue River worked very hard to remove obstacles in the development and permitting process for the high-tech facility. "It was a 'no-brainer.' Not adversarial at all. It was whatever they could do to streamline the process," says Jim. In fact, during the due diligence process of considering relocation to many cities in Southern Oregon, Rogue River wanted to seal the deal and they created an enterprise zone in the city. "Even though we might want it better, the regulatory environment in Oregon is light years ahead of other places. Things are at least reasonable here, but California… Really?"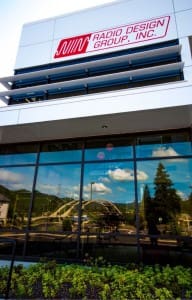 Radio Design Group is a business that specializes in design and manufacture of military and commercial radio devices and other highly specialized radio equipment that maximizes use of radio bandwidths. The entertainment industry uses their radio systems to get clear signals from multiple headsets.
Extremely specialized engineers and technicians work at Radio Design Group. Jim employs a mixture of local Southern Oregon talent and recruited team members from across the nation. Some of his team are graduates of nearby Oregon Tech which has several highly sought-after engineering programs. When it comes to recruiting staff from other places he's found that the beauty of the area and low cost of living have only helped him. "Who doesn't want to live in paradise?" he asks. Jim has only failed once at a major recruitment effort and he can't fault that guy for the strong family bonds that were keeping him in Minneapolis, but "rrrr, really?"
Radio Design Group's high-tech headquarters and production facility has a view of the Rogue River and easy access to the riverside park, boat launch and trails. "I could have moved to Nevada or Texas that are more business friendly, but why would I? Today, from my office window, I saw my engineering manager and a production employee come back from jogging down the river. Where else could I have an office with a river and bridge view?"
The team at Radio Design Group works immensely hard, under tight specifications and deadlines. Being located in a gorgeous place helps with recruitment and staff retention in a highly competitive business.
Radio Design Group
8925 Rogue River Hwy,
Grants Pass, OR 97527
www.radiodesign.com
541.471.1100
Printed Version: Common Sense | Radio Design Group