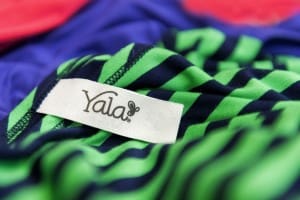 ASHLAND, OR- Who knew that two young English teachers on an extended visit to China 20 years ago would have been the catalyst for a thriving clothing business based in Ashland, Oregon?
Yala started by selling silk DreamSacks™, a lightweight bedding for traveling. Nancy reminisces about the origin of that product from their first trip to China. "We were explorers, taking trips and treks every weekend we could. We slept on beds without sheets or mattresses, even on the grassy ground a few times. And that's when the idea came to protect us in unfamiliar sleeping circumstances. We stitched together two well-worn sheets as a clean and comforting liner for wherever we laid our heads." The silk DreamSacks became extremely popular after an ABC "20/20" exposé shined a black light on hotel sheets exposing their unsanitary condition.
Originally Yala did all silk products. They started with the DreamSacks then moved in to silk robes, pajamas, night gowns and bedding. "We still make those things, but what happened was we started learning about other natural fibers," Nancy says, Yala products are now made of bamboo, along with some silk and organic cotton. Yala has also evolved to creating clothes for women, men and babies along with the bedding and bath items.
All of the items are designed in Oregon, manufactured in China and ultimately shipped to consumers and retailers from Yala's Ashland facility. "We conduct business internationally from the small Southern Oregon community of Ashland, which is really wonderful," Nancy says with pride. "As part of a smaller community, people care about your business and really want to make sure that you succeed because it helps the whole community.
"I love doing business in Southern Oregon!" Nancy exclaims. Southern Oregon Regional Economic Development, Inc., (SOREDI) provides Yala with constant and reliable information on everything from financing to facilities and other government programs such as Business Oregon. She also has met and brainstormed ideas with a retired executive who is part of the Small Business Development Center in Medford, Oregon. "I think being in a small community gives you tons of support. We have many different government and non-profit organizations that are here to help," Nancy says. "Also, it's easy to network with other businesses because we all support each other. It's a wonderful community. I'm a big advocate for living here and doing business here.
"I can't emphasize enough how helpful people are," Nancy continued. "If we were in a big city, nobody would pay attention or notice if the business was successful. But here in Southern Oregon, everybody wants to help each other be successful. Even a small business like mine gets help and encouragement from other people. To me, that Southern Oregon edge is just priceless." 
Yala Designs Inc.
255 Helman Street, Suite 1
Ashland, OR 97520
www.yaladesigns.com
(800) 670-7661
PRINT VERSION: A Community For Business: Yala
Written by: Chris Cook
Photo Credit: Jim Craven Photography