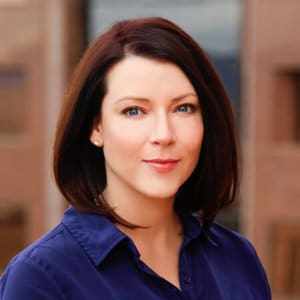 We all know that one of the top considerations at the forefront of a relocation decision is workforce. Does Southern Oregon have the available workforce to attract the kind of companies that we are hoping to grow here? At SOREDI, it is our goal to attract and cultivate the kinds of companies that will export their goods and input dollars to our region. Companies that export products and services nationally and internationally need workers with a variety of skillsets. From manufacturing and production line jobs, engineers, managers and executives, all these roles demand some mastery of technology. What do today's workers look for when they are considering a job that would require them to move?  
What would it take for Southern Oregon to be a compelling destination for quality workers in today's economic landscape? Mary Hebert, Senior VP, North America Business Development with WAVTEQ, will tell us on Thursday, Jan. 31, 2019.
Mary Hebert is an experienced site selector, running WAVTEQ's US operations. She previously worked for the Greater Phoenix Economic Council (GPEC), one of the top ranked economic development organizations globally, as Director of Business Development and Director of Strategy. In this role, she managed more than 50 inward investment projects, creating over 50,000 jobs in the region, annually. During her tenure overseeing international strategy, she increased GPEC's direct lead generation results by 135%, branding the region as a leading tech hub.
WAVTEQ is a global leader in providing data, technology and consulting solutions that enable regional and national governments to attract inward investment projects and to achieve sustainable development goals. It is their mission to increase the quantity, quality and optimal location of direct investments. In relation to Southern Oregon, this means that WAVTEQ offers data driven expertise in knowing what companies outside our region look for when they are considering a relocation and expansion project.
At SOBC 2019, Mary Hebert will share her experience with us: What do international corporations look for when they are seeking to expand or relocate to the West Coast of the US? What do top quality workers seek when relocating to a new community for work? Does Southern Oregon have the qualities it takes, as a region, to attract relocating companies and quality workforce from inside and outside the US? Don't miss this pivotal discussion. You can attend SOBC 2019 and ask an international expert your own questions about our region.
Don't miss the December 31 Early Bird Registration Deadline. Get your tickets to SOBC 2019 by December 31 to be entered to win a $500 Golf Getaway Package from Eagle Point Golf Course. This package includes a round of golf and Eagle Point Golf Course, an overnight stay at The Resort at Eagle Point and dinner for two at The Talon Grill. Get your tickets now! The winner will be announced at SOBC 2019.