Get your tickets today for The Bushwood Classic, our 30th Anniversary Celebration and Annual Meeting!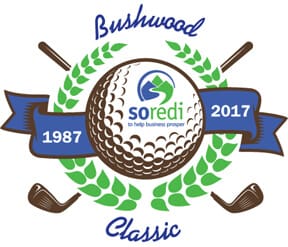 This year, we will meet out at the Eagle Point Golf Club on June 21 at 4:30 pm. The Caddyshack-themed evening will begin with some networking time and fun games! All proceeds from game tickets will be donated to Rebuild The Mill Foundation, benefitting the reconstruction of the Historic Butte Creek Mill. Feel free to wear golf-attire. 
SOREDI Members only are eligible for Early Birdie pricing – until June 1, tickets are $50 each. You'll want to fill at table now, as seats are limited. Please reserve your seats now and get your game tickets in advance. Game tickets can be used to play games or enter to win prizes. 
You won't want to miss our economic activities report, and the announcement of the Prosper Award winners. The most Innovative, Tenacious, Collaborative, Ingenious and Inspirational members of our business community will be recognized. Your event ticket also includes food and drink catered by the Talon Grill and live music by the East Main Band. 
Event Tickets for Non-Members are $75. Beginning on June 2, Member Tickets will be $65. Get your $50 Early Birdie Tickets now!

Game Tickets:
$25 for 10 Game Tickets
$50 for 25 Game Tickets
$100 for 75 Game Tickets
See you there!