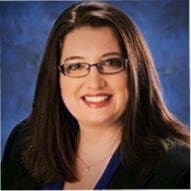 Southern Oregon Regional Economic Development, Inc. (SOREDI) is pleased to announce that Amy Browne will be joining the Business Development team at SOREDI. Amy will be on board effective January 2, 2020.
Browne is a Southern Oregon Native that is passionate about community, family and helping others.  Amy brings 23 years of customer service, team building, and business development experience to SOREDI after having served in various roles at banking institutions. She comes to SOREDI most recently from Banner Bank where she was the Ashland Branch Manager.
Browne graduated from Plains High School in Plains, Montana and then attended the University of Montana on a vocal scholarship until returning to Oregon where she met her husband Chris at Wells Fargo Bank. Chris is the branch manager of Umpqua Bank in Phoenix.
Browne's position will include managing the award-winning SOREDI Quest initiative, which educates high school students about many great companies and their respective career pathways here in Southern Oregon.
SOREDI's Executive Director, Colleen Padilla comments, "Amy is a rare find and will highly complement the culture and professionalism among our staff. She has a passion for business development, team spirit, and career pathways among our youth… all critical components of her new position."
Browne states, "I am passionate about using my business development experience for the betterment of the community in this new position. I am ready to tackle new projects and support the vision of SOREDI."
She enjoys crafting, organizing special events and all things DUCKS!  She serves the community on the Boards of Junior Achievement and the Southern Oregon Duck Club. In addition, she volunteers with the Rogue Valley YMCA and Sparrow Club. Amy lives in Medford with her husband Chris and their 2 daughters.
About SOREDI: SOREDI is a private, membership-based, non-profit organization, governed by a 28-member board of directors. Its staff is charged with local business expansion and new business recruitment efforts, financial assistance to start-up companies through its business loan fund, and management of Enterprise Zones in Jackson and Josephine Counties. The agency was formed as a regional economic development agency in 1987.