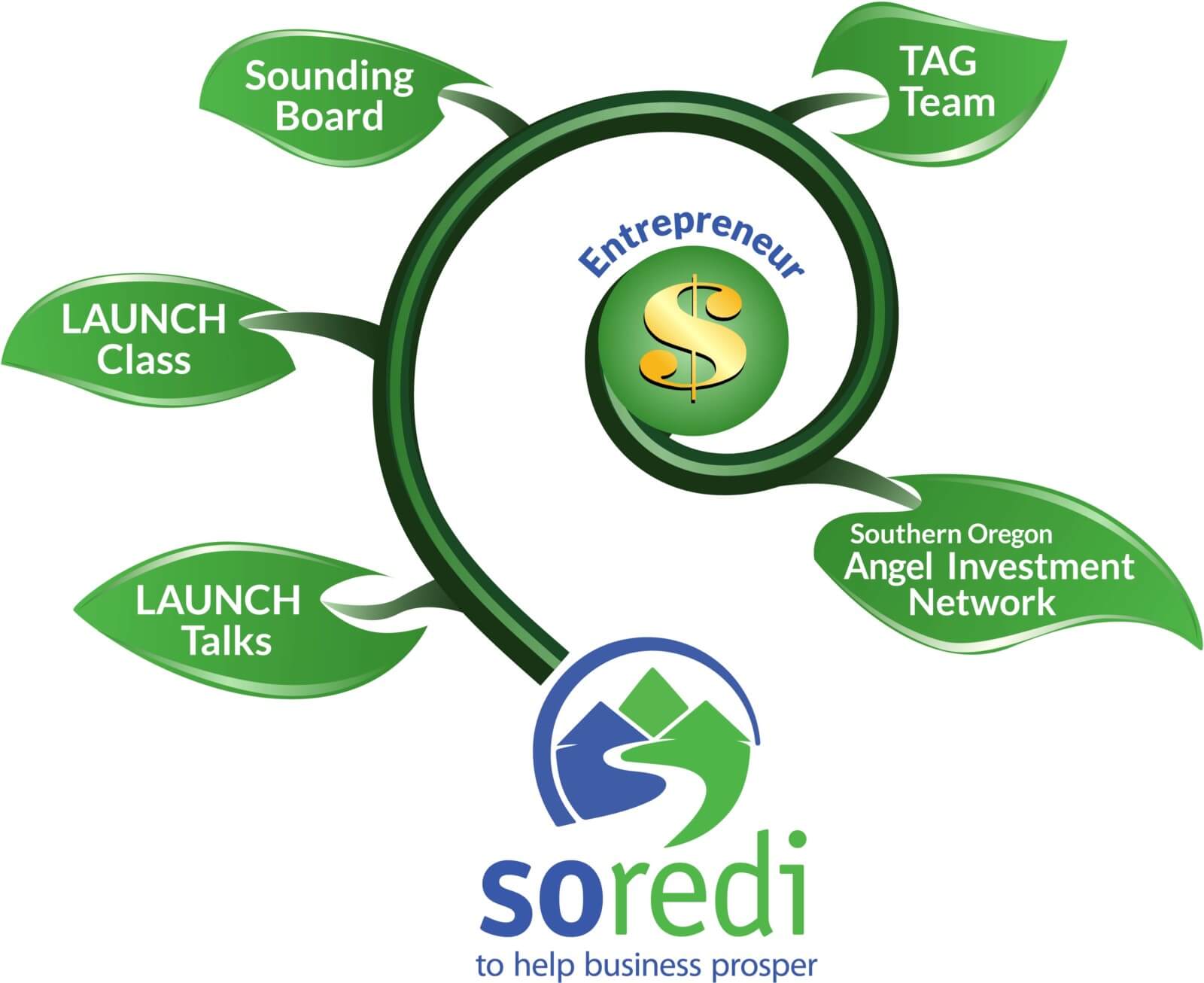 Southern Oregon Angel Investment Network
LAUNCH|Talk
LAUNCH Talks are designed to provide local entrepreneurs a monthly meeting where they can mingle and be inspired. Programs often feature an entrepreneur success-story or a helpful local resource. For details of each program, visit www.soredi.org/events. Food and drink is provided, with beer & wine available to purchase.
Summer PitchFest - July 11th
Summer PitchFest is a brand-new start-up pitch contest on July 11th, which aims to connect local start-ups and entrepreneurs with investors and resources to help them succeed.
PitchFest s aimed at both individuals armed with just an idea through to start-up companies looking to scale & grow.
Sounding Board
Could be your first step to simply run an idea by seasoned experts like OEN and SOREDI. One hour, confidential meetings at SOREDI by appointment.
TAG Team|Technical Advisory Group
A group of volunteers with technical expertise in specific areas pertinent to new business startups coordinated by SOREDI.
Southern Oregon Angel Investment Network
Local organization of accredited investors established for the purpose of increasing the amount of non-traditional seed capital and angel funds available in the region by connecting startup and existing companies with the capital needed to grow a scalable venture or expansion.
SOREDI's Annual Meeting – June 27
Register Now for SOREDI's Rogue Adventure!   Do you have what it takes to find the Gems hidden throughout Southern Oregon and to reach into the Temple of Doom in search of great prizes! SOREDI's upcoming Annual Dinner promises great riches of fun and information. Get your tickets now! Tables are filling up!
Oregon Bioscience Association to Host Medford Mixer
Thanks to the tireless work of SOREDI member, Biomed Diagnostics, Oregon Bioscience Association will be hosting their first ever mixer in Medford! Until now, their chapter meetings, events, and classes have been conducted in Portland and Bend. All biotech, health and life sciences businesses in Southern Oregon are invited. What: Oregon Bioscience Medford Mixer When: […]
Looking for Funding for a Cleantech startup?
Portland based VertueLab, which is an accelerator program aimed at Cleantech/Climate Impact start-ups is hosting its Eco-Capital Connections event on Sept 13th, applications close Jun 26th. If your cleantech startup is ready to connect with investors and strategic partners, apply by June 26th to be considered for Eco-Capital Connections. This annual, invitation-only, matchmaking event pairs entrepreneurs with […]
Here's what's coming next
Sorry, we couldn't find any upcoming events. Please try a different search.