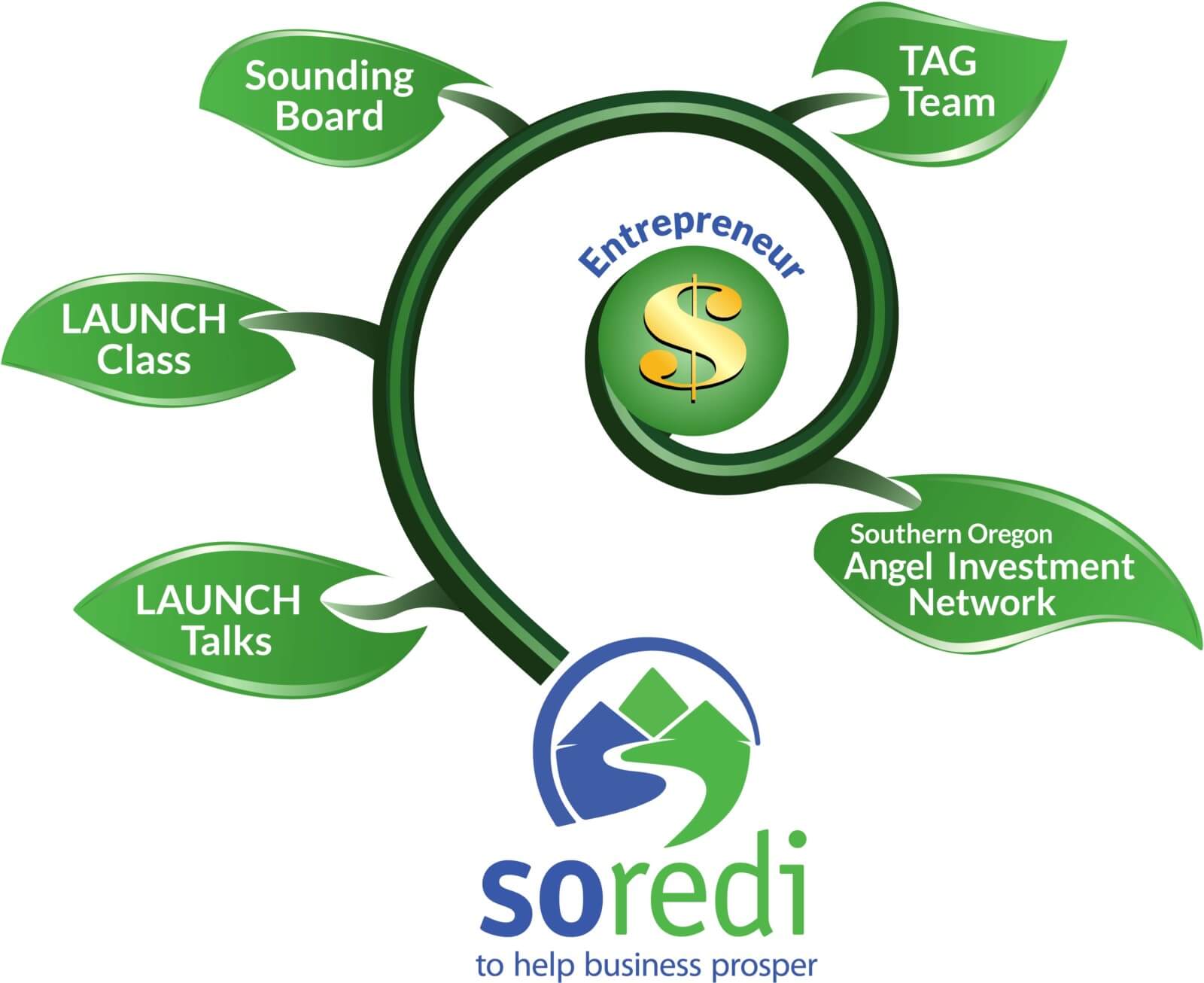 Southern Oregon Angel Investment Network
LAUNCH|Talk
LAUNCH Talks are designed to provide local entrepreneurs a monthly meeting where they can mingle and be inspired. Programs often feature an entrepreneur success-story or a helpful local resource. For details of each program, visit www.soredi.org/events. Food and drink is provided, with beer & wine available to purchase.
Sounding Board
Could be your first step to simply run an idea by seasoned experts like OEN and SOREDI. One hour, confidential meetings at SOREDI by appointment.
Southern Oregon Angel Investment Network
Local organization of accredited investors established for the purpose of increasing the amount of non-traditional seed capital and angel funds available in the region by connecting startup and existing companies with the capital needed to grow a scalable venture or expansion.
TAG Team|Technical Advisory Group
A group of volunteers with technical expertise in specific areas pertinent to new business startups coordinated by SOREDI.
Notes from Colleen's Desk: You've Got Something to Say!
We all love to be in the know and we all love to have our say, right? You know it's true. So here is an opportunity for you to do both! You can be in the know about our current efforts to update our Comprehensive Economic Develop Strategy (CEDS) and have your say. It's a two-for-one. […]
How can Toastmasters help entrepreneurs?
As an entrepreneur being able to craft a compelling pitch is an essential skill whether you are raising money, selling your products / services or convincing someone to come work for you. While the content of a pitch is always important, so is it's delivery and this is where organisations like Toastmasters can really help […]
LAUNCH|Talk: All Your Legal Questions Answered
Join us at The Hivve in Grants Pass on Thursday, August 8 at 5:30. Tickets are $10 – Available now and at the door. Food and beverage included. Wine provided by Pallet Wines. Every entrepreneur faces legal questions at some point. • What company structure is right for my business? • How do I file […]
Here's what's coming next