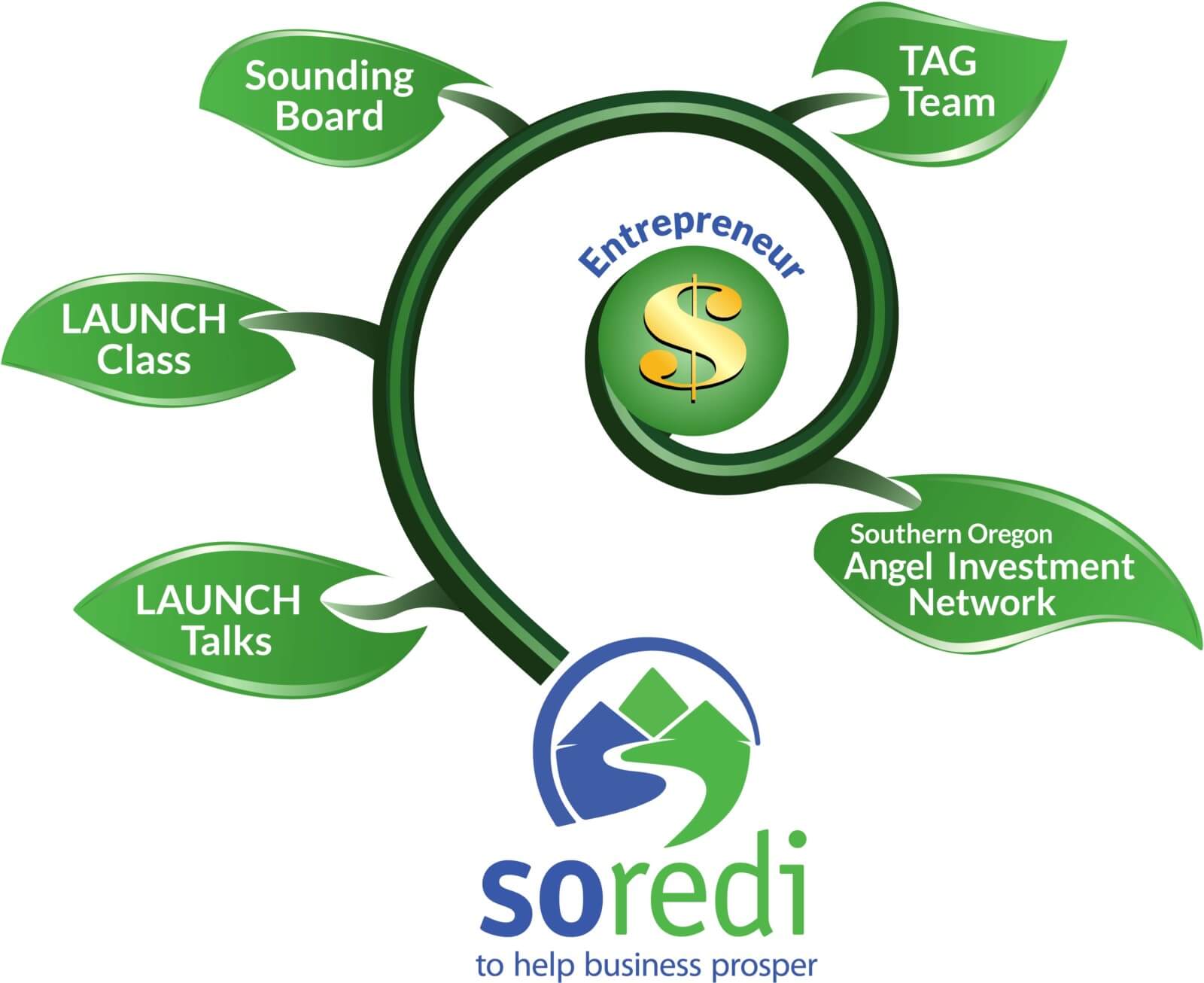 Southern Oregon Angel Investment Network
LAUNCH|Talk
LAUNCH Talks are designed to provide local entrepreneurs a monthly meeting where they can mingle and be inspired. Programs often feature an entrepreneur success-story or a helpful local resource. For details of each program, visit www.soredi.org/events. Food and drink is provided, with beer & wine available to purchase.
PitchFest - Sumer 2019
Southern Oregon PitchFest is a brand-new start-up pitch contest on July 11th, which aims to connect local start-ups and entrepreneurs with investors and resources to help them succeed.
With 2 different tracks; Start-Up and Growth, there are opportunities for both individuals armed with just an idea through to established companies looking to scale & grow.
Sounding Board
Could be your first step to simply run an idea by seasoned experts like OEN and SOREDI. One hour, confidential meetings at SOREDI by appointment.
TAG Team|Technical Advisory Group
A group of volunteers with technical expertise in specific areas pertinent to new business startups coordinated by SOREDI.
Southern Oregon Angel Investment Network
Local organization of accredited investors established for the purpose of increasing the amount of non-traditional seed capital and angel funds available in the region by connecting startup and existing companies with the capital needed to grow a scalable venture or expansion.
Notes from Colleen's Desk: The Common Denominator
You may be wondering what drives the initiatives we take on at SOREDI.  Initiatives like our long-standing and award-winning Industry Tours, our Southern Oregon Edge business profiles, the annual Rogue Tech Collective Tech Tour, and SOREDI Quest, were all initiated by SOREDI in the last decade. While we do love to create and implement relevant […]
Successful eCommerce 101 – Experts Go-To Tools.
Thanks to everyone who made it out to the LAUNCH|Talk at Urban Cork last week to learn more about Successful eCommerce 101. One of the most valuable parts of our panel discussion was all about our expert panelists' favorite tools. We had a lot of suggestions, so for your reference here's a detailed run down […]
Southern Oregon Wildfire & Visitor Perception Survey
SOREDI has been pleased to act as the fiscal agent for a grant from the Governor's Office Local Economic Opportunity Fund (LEOF) to Travel Southern Oregon, in the amount of $51,850, for the purpose of conducting this study.  The Southern Oregon Wildfire & Visitor Perception Study tells the story of visitors to our region, the […]