Bear Creek Stewardship Day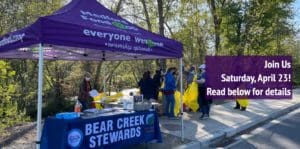 Thinking of doing something for your community on Saturday, April 23rd? Jackson County and its partners invite all community members to join on Earth Day in an effort to keep Bear Creek clean!
Date: Saturday, April 23rd 2022
Time: 9:00 am – 12:00 pm
Check-in: 8:30 am
Location: Nine check-in/out locations along the Bear Creek Greenway from Central Point to Ashland!
Clean-up gear is available by SOLVE and their local partners at the registration/check-in booths. However, volunteers are encouraged to bring their own supplies including gloves and tools.
For more information, please visit: https://www.bearcreekstewards.org/