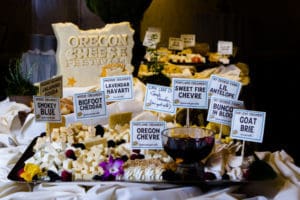 As one of the larger cities in Jackson County, with nearly 18,000 people, Central Point is known for being "the crossroads" of the beautiful Rogue Valley. Renowned for businesses like Erickson Air Crane, Quantum Innovations, and the Rogue Creamery, Central Point attracts industries and artisans alike. 2019 is a special year for the city of Central Point, marking the fifteenth anniversary of the Oregon Cheese Festival, scheduled for March 16 and 17, and hosted by the Oregon Cheese Guild at the Rogue Creamery.
Back when the Cheese Guild was still just an idea, the festival came together as a way to "increase awareness of Oregon's artisanal cheeses," says Marguerite Merritt, the marketing director at Rogue Creamery. This traditional festival is set up Farmers' Market-style, so the event can feature local products from over 100 vendors in the cheese, wine, beer, and specialty food industries. All the proceeds from the Cheese Festival go to the Oregon Cheese Guild. The Guild uses these funds to "provide a platform for cooperation and shared resources among Oregon's cheesemakers." Little known to some, the Oregon Cheese Festival in Central Point has been named one of the "Ten Best Cheese Festivals in the United States," by Culture Magazine.
Thanks to businesses like the Rogue Creamery, now in its seventeenth year of business, under cheesemakers David Gremmel and Cary Bryant, Central Point has its very own artisan corridor. This strip of downtown Central Point is home to a plethora of fine foods, including chocolates from Lillie Belle Farms, and wines from Ledger David Cellars Tasting Room. A "centerpiece" of Central Point, the artisan corridor makes a great stopping point for visitors—and with wine, chocolate, and cheese all in a row, why not swing by? The popularity of this artisan corridor led to the development and expansion of the roads and sidewalks in Central Point—allowing for increased foot traffic. This year, the Oregon Cheese Festival is planning for five-thousand attendees. "[The event] has grown every year," Merritt continues. "We already sold out of vendor space and surpassed past ticket sales." In addition to expecting more attendees, Rogue Creamery and the Oregon Cheese Guild have made arrangements to expand the festival location. Instead of setting up tents on both sides of the street, pedestrians now only have one street to browse—for an entire quarter-mile. The CraterWorks MakerSpace building, recently renovated, is (for the first time ever), allowing the Cheese Festival to utilize its space for the event. The Rogue Creamery hopes that having a wider location will not only make the festival more pedestrian-friendly, but will allow for larger numbers of attendees at future Cheese Festivals.
Hosting such a statewide event is a boon for the city of Central Point as a whole—which means the Rogue Creamery prepares far in advance to ensure that each Cheese Festival is 'grate.' With its fame in Southern Oregon—and across the entire West Coast, local cheese and wine connoisseurs should make their plans now! The fifteenth Oregon Cheese Festival will take place Saturday and Sunday, March 16 and 17. Admission is free for children, though anyone over twelve will need a ticket (fifteen dollars in advance or twenty at the door, not including adult beverage tickets). Crater High School is offering free parking, so there's no excuse to be bleu. Head to Central Point and delight yourself with a slice of Oregon's delicacies.
Thanks to the newest addition to our SOREDI team, our SOU intern, Abigail Skelton, we will be featuring some of the popular attractions located in our Southern Oregon communities. We consider each one of our towns and cities to be "jewels in the crown" that makes up Southern Oregon. If you have a story idea sparked by an inspiring local attraction, please e-mail our Communications Manager, Codi Spodnik and maybe Abigail will be giving you a call to follow up!  If you are a SOREDI Member and you have some great news, please e-mail it to Codi so we can share it in our newsletter!
Sources: Oregon Cheese Festival (2019). Website: https://www.oregoncheesefestival.com/