The Rogue Valley Expressway, which opened to traffic on May 1, 2019, is already impacting the speed of travel to and from Eagle Point, making commutes less stressful for everyone. In the future, the Oregon Department of Transportation has even discussed furthering this Expressway directly into the city of Eagle Point. But this isn't the only development in the area.
The Eagle Point Golf Club has plans for future development as well. Designed and built by Robert Trent Jones Jr., an idol in the golfing world, the golf course has received recognition from all across the United States. Current owners, Bob and Chana Hyer, have plans to keep their golf club at its premier level while also growing the area around them as far as housing goes. Intended to be a golfing resort, the Eagle Point Golf Club offers beautiful chalets with "boutique overnight lodging." Though the Hyers plan to expand on the resort's housing by constructing a small lodge or vacation house on the grounds, the Eagle Point Golf Club is already a destination for corporate events, weddings, and of course, individuals looking for a luxurious local getaway.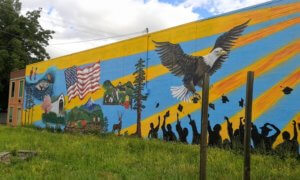 Business in Eagle Point is also changing —for the better. On the streets of old-town Eagle Point, there's a sort of whimsical charm that residents work hard to maintain and spread to the rest of the city. With the façade improvement program, businesses will slowly renovate the outsides of their storefronts so that the entire downtown stretch will have the same welcoming appeal. It's the hope that the façade improvement will "freshen up businesses," said Eagle Point's, mayor, Ruth Jenks.
At the moment, there are so many notable businesses in Eagle Point, it's difficult to highlight only a few. However, anyone's who's familiar with the city will appreciate the variety of restaurants, including New Chan's Palace, Schmizza Pub & Grub, Juan's El Caporal, Crackin' & Stackin,' or Sensational Sweets. Then, with the historic antique store (which actually was built as a cheese factory in the early 1900s), and a visit to one of Southern Oregon's last local butcher shops, Eagle Point becomes a destination for people who are looking for rare finds or custom servings of meat. On the edge of town, drive through the countryside and enjoy a wine-tasting at Bayer Family Estate or Agate Ridge Vineyards. There is more to do in Eagle Point than may initially meet the eye, as these businesses will prove.
Additional Sources:
Oregon Department of Transportation (2019). Oregon 62 Rogue Valley Expressway Project Completed. Website: https://www.oregon.gov/odot/projects/pages/project-details.aspx?project=13994
The Resort at Eagle Point (2019). The Chalets. Website: https://resortateaglepoint.com/lodging/