Jackson County is home to around 218,000 Oregonians. From Shady Cove to Ashland, the county boasts famous attractions and sights such as the Oregon Shakespeare Festival, the Rogue River, Mt. Ashland Ski Resort, the Britt Festival, a number of lakes, and of course, eleven cities fiercely proud of their individual communities. Recently, the county has been busy with several recreational projects and initiatives, aimed to further develop the outdoor opportunities of Southern Oregon, and to preserve the wonders the region has to offer.
A recent Jackson County project can be found directly off of I-5, exit 33. The county's newest park, the Southern Oregon RV Park, is seeing huge success in accommodating larger vehicles and offering fishing and recreational opportunities to visitors. Open year-round and positioned within a close walk of the Expo and the Bear Creek Greenway, the facility is especially convenient during the busy summers.  "It's a really nice park, and it's gotten a lot of good reviews," said Jackson County Commissioner, Rick Dyer. The occupancy level originally forecasted for this 92 full-hookup-site RV Park has been doubled, which benefits Southern Oregon residents because the Expo receives a percentage of the park's profit to better the facilities for event goers.
Emigrant Lake has a county RV Park as well, plus famed 280-foot water slides which are fun for the whole family. Just minutes from Ashland, and open all year long, Emigrant Lake is one of Jackson County's most popular lakes, and as such, it has recently received grants from the Economic Development Advisory Committee (EDAC) for the rapidly growing rowing club.
The Natural Bridge is another wonder tucked away in Jackson County—the point where the Rogue River disappears into a 250-foot lava tube and then reappears farther down the river. As a popular hiking spot, with scenic overviews of the Rogue River and the surrounding thick green forests, the Natural Bridge has widely accessible trails and a well-marked loop route, which can be walked in either direction.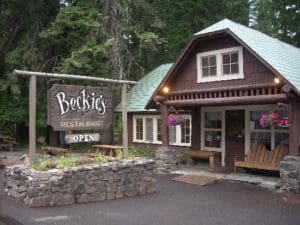 Just a little ways from the Natural Bridge is the Rogue Elk Park—a lesser known but similarly beautiful park and campground situated on thirty-three acres alongside the Rogue River. With riverside campsites, the Rogue Elk Park is a good way to escape into nature for a weekend. And if you choose to head up toward Crater Lake, be sure to stop in Union Creek, by Beckie's Café, another iconic landmark along highway 62. Famous for its huckleberry pies, but offering a wide variety of foods (from steak to pancakes and burgers to cinnamon rolls), Beckie's is open 365 days a year. After beginning service to Crater Lake's visitors in 1926, the business is now listed on the National Register of Historic Places.
Whether you're taking your RV for a camping trip, or simply looking for a daytrip that may or may not involve pie after a scenic hike…search no farther. Jackson County has numerous lakes, rivers, and parks that provide plenty of recreational opportunities for the entire family. As summed up by Dyer, "there's always stuff going on in Jackson County."
Additional Sources:
Jackson County Parks. (2019). Southern Oregon RV Park. Website: http://jacksoncountyor.org/parks/Camping/So-Oregon-RV-Park
Union Creek Resort (2019). Beckie's Café. Website: https://www.unioncreekoregon.com/beckies-cafe/