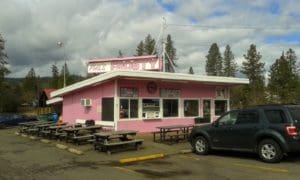 When a Southern Oregonian thinks of Shady Cove, one of the first things to come to mind is a pink ice-cream shop on the road to Crater Lake. Phil's Frosty, one of the landmarks of Highway 62, is one of Shady Cove's many local shops that have earned the city relative fame among other Jackson County residents. Home to 3,105 people, Shady Cove is the gateway to the deepest lake in the United States; flanked by the Rogue River, the scenic city can't be missed. But especially not when ice cream and other tasty meals are involved.
For over forty years, Phil's Frosty has been serving burgers, shakes, fries, and ice cream to Crater Lake visitors and local residents alike. "You just have to stop by," says city administrator, Tom Corrigan. Even during the off-season, the iconic bright-pink burger joint can be found serving breakfast to Shady Cove "regulars," and fries and shakes to the occasional passerby. On Trip Advisor, the business boasts reviews such as "Family owned and operated, Phil's Frosty is the full package…with good food serve[d] up by people who care," and "This spot is everything you've seen about a classic 70s' U.S. burger joint…A welcome break on our long drive down from Crater Lake." From the eye-catching colors outside, to the homey inside setup complete with antlers and 4-H ribbons on the walls, Phil's Frosty proudly proclaims community roots and a love of classic American diner-food.
Driving through and looking for a different place to catch a bite? Fear not, Shady Cove has a multitude of dining options in addition to its burger joint. Ranging from Italian dinners to savory barbeque take-out, Shady Cove's eateries love to welcome visitors. And not only do these businesses support tourists, but many of them often go above and beyond to look after fire-fighters during the summer months, providing them with fresh meals. "When you're eating hot garlic bread for dinner in a fire camp you know it's going to be okay," says Corrigan.
So, the moral of the story is: stop by Shady Cove for a snack next time you're passing through. With small-town friendliness, and a variety of long-standing restaurants to choose from, you won't regret your visit.