On Wednesday, June 21, 2017 at Eagle Point Golf Club, The Bushwood Classic, SOREDI's 30th Annual Meeting will be held, beginning at 4:30 pm. The program begins at 6:00 pm.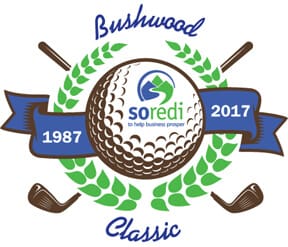 Before the program, the evening will kick off with a round of Caddyshack-themed games; "Be the Ball," Blindfolded Putting, "Go Fer the Gopher," Chipping Contest and "Whack a Gopher," Beanbag Toss. Tickets for these games are sold separately from tickets to attend the Annual Meeting. 100% of the proceeds from these games will benefit the Historic Butte Creek Mill restoration.
Prizes for these games include a Wine Tour package, a Golf Package and a Grand Doorprize. The Wine Tour package includes a Wine Hopper Tour for two. The Golf Package includes a Bradley Putter. Brad Converse from Bradley Putter will be available all evening to demonstrate his custom putters. The winner of the Golf Package will be able to pick out all the elements for a custom Bradley Putter.
Buy your Game Tickets in advance, enter to win these amazing prizes and help Rebuild the Butte Creek Mill. Volume discounts are available online. Game Tickets will be available at the event for $2.50 each. Register for SOREDI's Annual Meeting and Buy Game Tickets for your table! This will be a fun evening of networking and inspiration, feel free to wear your golf attire!