Keeping the Rogue Valley Connected

MEDFORD, OR – Hunter Communications isn't the biggest name in the world of fiber-optic communications, but it's the company Rogue Valley businesses turn to if they want a reliable, lightning fast connection.
The company's specialized dual-ring design provides redundant systems that surround local cities ensuring that if a line goes down another is ready to keep the connection humming. This means that customers can keep their businesses and credit card machines running without interruption.
Hunter started in 1994 offering fiber-optic connectivity to large corporations and educational institutions. They recently expanded to provide the same top-tiered internet and telecommunications to small businesses as well.
With a solid system that has been proven in Southern Oregon and other parts of the state, Hunter plans to branch out to Northern California after seeing installations jump from six a month in 2015 to 35 in March 2016.
Giving back to the community is so important to Hunter that they provide free Wi-Fi at the Medford airport and free access to the Skycam on top of Mt. Ashland. "There is literally a world class network here that anybody can tap into," said Carey Cahill, Director of Business Development at Hunter Communications.
If you want blazing-fast, rock-solid internet service, Hunter Communications fiber-optic network runs circles around the competition.
"We want our customers to go fast without interruption," said Carey Cahill, Director of Business Development at Hunter Communications.
"We are basically building an entire fiber network only, whereas everybody else is mixing technologies with fiber and copper."
If a fiber optics line is taken out by a backhoe operator or drunk driver, local businesses that have signed on to Hunter may hardly notice it. "Our customers aren't complaining that they are down all the time," Cahill said.
With 60 employees located mostly in the Rogue Valley, Hunter continues to see its farflung empire grow year over year. After years of offering its services to large companies and educational institutions, they are now expanding their top-tiered connection speed
and stability to small businesses.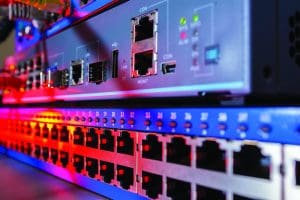 "There's a lot of fiber running around the streets of Medford connecting big businesses, but not many small businesses have tapped into it," Cahill said. In addition, many small businesses that have access to fiber-optic lines, have their connection speed choked by the slow copper lines in their buildings. Hunter goes around that bottleneck to provide an adrenaline rush of speed to computers.
With a solid system that has proven itself in Southern Oregon and other parts of the state, Hunter plans to branch out to Northern California.
"We had five to six installations a month in 2015," Cahill said. "Last month, we had 35 buildings that wanted fiber."
Hunter is a company that believes in giving back to a community that has helped propel it to success. When you're at the Medford airport, the Wi-Fi is free, and you'll notice it's courtesy of Hunter. If you want to check on weather conditions at Mt. Ashland, check out the
Skycam, also thanks to Hunter. But that's not the biggest impact that Hunter is making on our communities. They also provide discounted and free services to our schools and libraries, ensuring our community is connected.
Rich Ryan, president and chief executive officer, started Hunter in 1994 as a construction company that installed cabling for local businesses. At the time, Ashland was interested in creating its own fiber network to give that community an advantage in the growing internet market. As a result, Ashland Fiber Network was formed. With a fairly robust internal network, the city quickly found out it didn't have a strong fiber line to the outside world.
After a little brainstorming, Ryan agreed to run 12 miles of fiber from Ashland to Medford at a reduced cost as long as he had a half interest in the line. He saw an opportunity to do something for kids and education, so he approached the Medford School District and offered to install a robust network. "We were not sure it was going to be profitable," Cahill said. After the system was installed, students went from a pokey 3 megabits a second of data to a lightning fast system that clocked in at 1 gigabit a second. Since then, Hunter provides the same level of service to 24 school districts.
Other cable companies have almost one-third of their customers cancel their service every year. Hunter has a more dedicated following, with
a customer turnover rate of only about 3 percent, mostly due to corporate decisions to shut down or leave the service area.
Consistent with many small cities in the US, it's often difficult to attract skilled employees at Hunter, particularly ones that want to remain on the front lines of technology. "It's a constant battle," Cahill said. "We find that we are able to recruit great talent out of Oregon Institute of Technology or SOU, but they consider us a stepping stone on their way to a bigger city."
To keep talented workforce in the area, Hunter is trying to bring more high-tech employers from the Silicon Valley to our region. Main attractions to the Rogue Valley are short commute times, better quality of life and an internet connection that is top notch anywhere in the U.S.
"There is literally a world-class network here that anybody can tap into," Cahill said.
Hunter Communications
801 Enterprise Dr., Central Point, OR 97402
hunterfiber.com
541-772-9282
Print Version: Keeping the Rogue Valley Connected | Hunter Communications