Breaking news! Oregon Angel Food, OEN's premier food+beverage investment event, is back to kick 2020 in the kitchen! Lovingly referred to as OregonAF (and with a new mascot, more on Loafy below), Oregon Angel Food helps packaged food and beverage startups get positioned to scale nationally, and to promote them to the wider food+beverage investment community.
One investment-ready startup will earn an angel investment of ~$100K, to be announced at a live, interactive, public Grand Finale on September 18th.
APPLY NOW. OregonAF is open to all food and beverage makers in Oregon and SW Washington. Past participants are welcome to re-apply. We value and welcome entrepreneurs from diverse backgrounds; translation services can be provided upon request. Join a free OregonAF Info Session via Zoom Tuesday (6/23) at noon, or listen to the recording afterward on the OregonAF2020 website.
Note: You need not be investment-ready to apply to OregonAF! All participant companies will receive technical assistance to help reach their next stage of development.
INVESTOR POOL OPEN. If you are an accredited investor who would like to join the investment pool to help grow drool-worthy Oregon food+beverage brands, please let us know. An investor info session will be held tomorrow morning (Thursday, 6/18) at 8:30am. Email us at info@oen.org for an invitation.
Key Dates:
– 6/17: APPLICATIONS OPEN
– 6/18: Investor info session, 8:30am via Zoom (email for details)
– 6/23: OregonAF Info Session, 12pm via Zoom
 – 7/2: APPLICATION DEADLINE
– 7/14, 7/21, 7/27, 8/4: Scaling a National Food or Beverage Brandworkshops, 8:30am via Zoom
 – 9/18: LIVE, INTERACTIVE, PUBLIC GRAND FINALE (details and tickets TBA)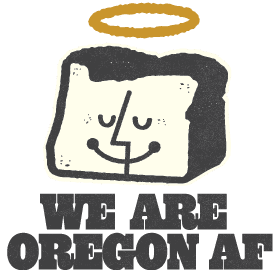 Lastly, with immense gratitude to creator Bob Smith, it is my great pleasure to introduce Loafy (pictured left). Loafy is multi-grain, locally sourced, regeneratively produced, gender non-binary, and joyful! In other words, like our region's food and beverage entrepreneurs themselves, Loafy reflects Oregon's rich biodiversity, its creativity and innovation, and its highest aspirations for joyful collaboration across our industry. Read the Oregon Angel Food manifesto in English or Spanish.