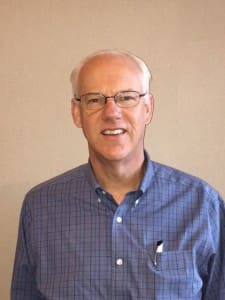 Medford, OR. – November 5, 2015:  – Southern Oregon Regional Economic Development, Inc. (SOREDI) is pleased to announce that Noland Alston has joined SOREDI as the new Business Development Loan Manager.
Alston has 34 years of commercial banking experience mostly in Southern Oregon.  Most recently, he spent 13 years with PremierWest Bank which became AmericanWest Bank in 2013.  Alston's background includes commercial lending as a team leader, branch manager and various other positions supporting the commercial lending function. Businesses seeking gap financing are encouraged to contact Noland immediately at (541) 773-8946, (541) 944-8355 or noland@soredi.org.
Alston is a graduate of Oregon State University and has lived in the Rogue Valley for over 19 years, residing in Klamath Falls the prior 10 years.   "I love Southern Oregon and helping people: joining SOREDI is a perfect match for my passion and my diverse lending background," says Alston.
Executive Director Ron Fox states "We are thrilled to have found talent quickly for this position opening; Noland is a great fit for our dynamic business development team and will help us tremendously in our job to help companies launch, relocate, and prosper in Southern Oregon."
Born in Portland, Alston is a native Oregonian and graduated from Canby Union High School.  Alston lives in Medford with his wife Joyce. He enjoys working on their vacation home and small timber farm near Howard Prairie, fishing the upper Rogue River (mostly rowing the boat) and spending time with family.
Former loan manager Kathy Trautman has moved into the Business Development Manager position which focuses on outreach calls to traded-sector businesses, industry tour planning, and facilitation of key traded-sector business consortia.
About SOREDI: SOREDI is a private, membership-based, non-profit organization, governed by a board of directors. Its staff is charged with local business expansion and new business recruitment efforts, financial assistance to start-up companies through its business loan fund, and management of Enterprise Zones in Jackson and Josephine Counties. The agency was formed as a regional economic development agency in 1987. Learn more at https://soredi.org.
###