Medford, OR – At SOREDI's 2017 Annual Meeting, held June 21 at the Eagle Point Golf Club in Eagle Point, SOREDI added a fundraising element to their regular program.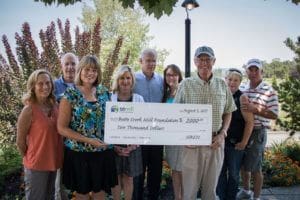 Each year, SOREDI gathers their members, guests and interested parties to give them a report about the activities they undertook during the previous year and to recognize noteworthy businesses. This year, the theme of the evening was Caddyshack and three golf-themed games and two raffles were added to the program. Guests were invited to buy tickets that could be used to play games or enter the raffle contests. One hundred percent of the proceeds from these tickets were dedicated to the Historic Butte Creek Mill Foundation, to be used in the rebuilding of the Historic Butte Creek Mill in Eagle Point.
SOREDI is proud to announce that their members and guests donated $2000 to the Historic Butte Creek Mill.
"We are thrilled to present this check for $2000 to Bob Russell, the owner of the Historic Butte Creek Mill," says Colleen Padilla of SOREDI. Padilla continues, "This is an important landmark and asset in our region that is sorely missed! Raising this money is a tangible demonstration of our goodwill and emotional connection to the project and we look forward to its rebuild in Eagle Point."
SOREDI is a private, membership-based, non-profit organization, governed by a 28-member board of directors. Its seven-person staff is charged with local business expansion and new business recruitment efforts, financial assistance to start-up companies through its business loan fund, and management of Enterprise Zones in Jackson and Josephine Counties. The agency was formed as a regional economic development agency in 1987.