SOREDI is coordinating a quarterly Prosper Talk to bring interested parties together around key topics
Medford, OR. – February 18, 2016: There are some common problems that businesses in Southern Oregon face, perhaps one of the biggest is workforce readiness.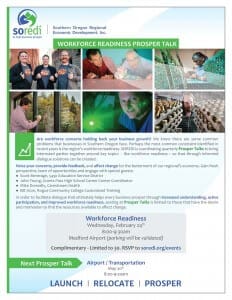 SOREDI is looking for interested parties to affect change for the betterment of our region's economy. Participants will gain a fresh perspective, learn about opportunities to improve workforce readiness and to be an integral part of creating a solution that will work for the Rogue Valley.
The Workforce Readiness Prosper Talk on February 24 will feature the following special guests:
Scott Beveridge,  Southern Oregon Education Service District
John Young, Grants Pass High School Career Center Coordinator
Mike Donnelly, Carestream Health
Bill Jiron, Rogue Community College Customized Training
In order to facilitate dialogue that ultimately helps every business prosper through increased understanding, active participation, and improved workforce readiness, seating at Prosper Talks is limited to those that have the desire and motivation to find the resources available to affect change.
Workforce Readiness Wednesday, February 24th 8:00-9:30am at the Medford Airport (parking will be validated) Complimentary – Limited to 30. Please RSVP to soredi.org/events
About SOREDI: SOREDI is a private, membership-based, non-profit organization, governed by a board of directors. Its staff is charged with local business expansion and new business recruitment efforts, financial assistance to start-up companies through its business loan fund, and management of Enterprise Zones in Jackson and Josephine Counties. The agency was formed as a regional economic development agency in 1987. Learn more at https://soredi.org.
###