Ribbon Cutting, Open House and Tech Tour Slated for December 16
Medford, OR. – December 3, 2015: Zeal will host an open house and ribbon cutting event on Wednesday, December 16 in downtown Medford at 37 N. Central beginning at 9 am. Multiple activities are planned to celebrate the company's rapid tech sector growth and its spearheading efforts to attract and grow more tech companies in the region.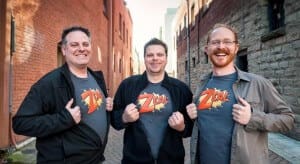 Several speakers, including Ron Fox (SOREDI), Jim Fong (Rogue Workforce Partnership), Larry Holzgang (Business Oregon) and congressional representatives will address the collaborative effort of the private and public sector to support increased opportunities for tech sector growth, establish workforce mentoring and apprenticeship programs, and promote community partnership.
"We are passionate about placing a stake in the ground for the tech sector," comments Zeal co-founder Trever Yarrish "with not just our passion but an open floor plan specifically designed to nurture other tech startups and creatives in the community."
The Zeal celebration will open with coffee and pastries at the new Zeal main office from 9 to 11 am. The official ribbon cutting ceremony with guest speakers will occur 1:00 – 2:30 pm. SOREDI will thereafter lead a tech tour of other local tech businesses in the downtown at 2:30 pm including CBT Nuggets, Lifeline Computer, and a new business – Project Ride – yet to formally announce its relocation to Medford.
At 6:00 PM, Zeal will be hosting IGNITE a free tech industry focused open conference. Industry leaders will help facilitate open discussions regarding trends in the web and mobile industry, resources throughout Southern Oregon for tech companies, and how we can make the region even more viable to the tech industry. Food and drink provided.
"We are energized by Zeal's passion and drive to help create a better space for tech companies in Southern Oregon – in our experience, private collaboration and participation is key to attracting and growing companies in the region," states Colleen Padilla, Senior Business Development Manager for SOREDI, "this is as great step forward!"
The community is invited to attend. Refreshments and appetizers will be served throughout the day, catered by Capers.
About Zeal: Now in its third year as a Medford-based custom web and mobile application developers, Zeal has grown leaps and bounds since its inception and employs around a dozen members. It has more than quadrupled its workspace by relocating into the former Woolworth Building. Read the full Zeal profile here: https://soredi.org/coding-zeal/
About SOREDI: SOREDI is a private, membership-based, non-profit organization, governed by a board of directors. Its staff is charged with local business expansion and new business recruitment efforts, financial assistance to start-up companies through its business loan fund, and management of Enterprise Zones in Jackson and Josephine Counties. The agency was formed as a regional economic development agency in 1987. Learn more at https://soredi.org.
###