Automotive Aftermarket Company Comes Home December 15, Will Hire 35
Medford, OR. – December 8, 2015:  Takit Inc. (pronounced Take It), manufacturers of Bedslide, founded and currently headquartered in Medford has closed its manufacturing facility in Indiana and will relocate its manufacturing operations to 111 Taft Street, formerly occupied by an indoor slick car race track, effective December 15, 2015.  Takit Inc. will create 35 new jobs for the region.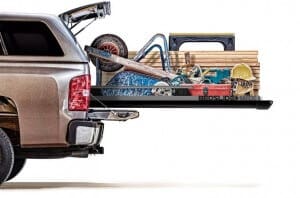 Most recognized as Bedslide, the company created and has manufactured sliding cargo drawers for several different model trucks and SUV's since 2000, when originally incorporated as IFW, Inc. In 2010, Dan Marshall, President and CEO, changed the name to Takit, Inc., and set up manufacturing in Elkhart, Indiana to be closer to their customer base and critical automotive manufacturers offering their product lines.
SOREDI, along with the City of Medford and Business Oregon, has been working with Takit, Inc. leadership since March to find suitable facilities, identify appropriate incentives and resources, and facilitate its return.  In addition to great employees, the company is looking forward to less travel time between locations, increased productivity, improved quality control, and a milder climate.
"We can't wait to get back into production in Medford" comments President and CEO Dan Marshall.  "This is the birthplace of our Bedslide products and it was simply the right time to reunite our manufacturing operations with our headquarters and move forward with many other innovative products."
Takit, Inc. has already successfully hired several new employees. Additional prospective employees may email resumes to WorkSource Oregon at oed.medfordcr@oregon.gov   or directly to employment@bedslide.com. The company is seeking employees with skills in welding, fabrication, powder coating, and assembly.
The company will take advantage of Medford Urban Enterprise Zone property tax abatement incentives available to traded-sector companies, and other potential incentives through Business Oregon.
"It's definitely a happy reunion for Southern Oregon – we simply do not give up on the great companies that have started here," states Colleen Padilla, Senior Business Development Manager for SOREDI. "The City of Medford and SOREDI have consistently reached out to this company over the years and we're excited to see those efforts pay off."
About SOREDI: SOREDI is a private, membership-based, non-profit organization, governed by a board of directors. Its staff is charged with local business expansion and new business recruitment efforts, financial assistance to start-up companies through its business loan fund, and management of Enterprise Zones in Jackson and Josephine Counties. The agency was formed as a regional economic development agency in 1987. Learn more at https://soredi.org.
###