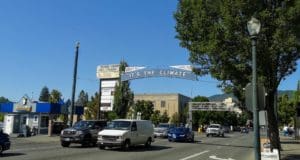 How many Southern Oregon residents know that Grants Pass volunteers built their own community park? Or how many have heard of Alley Activation, a program designed to beautify the city's alleyways? Have you ever seen a chalk art festival? A 1950's car parade? As the largest city in Josephine County, Grants Pass is known for being a hub of activity along the Rogue River, where people are drawn in because of "the climate," and stay because of their neighbors' friendliness. With over 37,000 residents, each year Grants Pass' events get bigger and better, so don't miss out on all there is to do in this exciting city.
Reinhart Volunteer Park is one of Grants Pass' obvious gems, not only because of the facilities it offers, but because of the spirit with which it was constructed. Community members came together, and with the help of generous donations from other local companies and individuals, the city was able to create a park that contains four softball fields, two baseball fields, three beach volleyball courts, three tennis courts, four basketball courts, twelve horseshoe pits, several ponds and wetland areas, and a beautiful jogging trail along the Rogue River. When the weather is nice, celebrations and weddings take place under rentable shelters. Locals can be found out walking their dogs, and tourists spotted admiring the river vistas. "It's just a great park," said Susan Seereiter, Grants Pass' business advocate.
The same community involvement that built Reinhart Volunteer Park is also found in the back alleyways of Grants Pass. Through Alley Activation, the city's alleys are coming to life with plants, murals, benches, lanterns, and occasionally live musicians. Wanting to enrich the city's historical district, city officials and volunteers are working together to make the alleys safe and exciting places to visit during monthly event-nights like First Fridays—or any other day you happen to be strolling downtown.
Back to the Fifties, locally considered the "best classic car show and cruise in the Pacific Northwest," takes place during a week in July, and features a variety of family events, including 50's concerts in the parks, a sock hop, outdoor movies, and of course, the antique car cruise through downtown Grants Pass. Even the stores and restaurants get into the fifties groove and often set out sidewalk sales and kids' games. A few months later, the first weekend of October is the launching point for Art Along the Rogue, a chalk art and music festival event that occurs in the downtown streets. While music echoes throughout the town, artists construct phenomenal chalk art designs along the pavement. According to Seereiter, "every year it gets better and better. There's always this creative synergy. You can just feel it."
Whether admiring cars or painting alleyways, Grants Pass has something for everyone. As the city heads into another year of unique events, you can be sure the community will welcome you heartily should you decide to check out the excitement of Grants Pass for yourself.
Additional Sources:
Grants Pass, Oregon. (2019). Reinhart Volunteer Park. Website: https://www.grantspassoregon.gov/facilities/facility/details/Reinhart-Volunteer-Park-10
Rogue Valley Now. (2019) Back to the Fifties Celebration. Website: http://www.roguevalleynow.com/back-to-the-50s