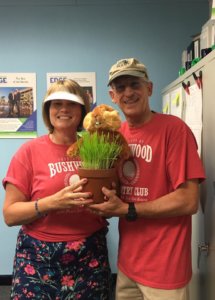 This day had to come.  And it's bittersweet.
It is a first for me and despite my selfish desire to insist on just a few more days (I already played that card and got six additional weeks!); it's time to say farewell and happy retirement to one of our very own. This week, Community Development Manager, Rob Merriman, will indeed retire after just three-plus years of employment at SOREDI.
I've been vacillating between unfettered gratitude for the blessing of having had this gentleman on staff and "oh my goodness, what NOW?!" depression.  But, the retirement is well deserved and I could not be more pleased to offer a few words of recognition for a job well done.
I will miss the creative brainstorming sessions, the nail-biting passion, and contagious laughter
Rob has brought to the office. I will miss his quest for excellence in every proposal made (and model aircraft built!), his knack for word-smithing, and his cheerful countenance. He has been a model of team spirit with a quirkiness that is, evidently, a requirement for all SOREDI staff. Rob has been the epitome of every core value held dear to this agency; he has been wildly serious about business development and seriously playful.
Jim Collins' business leadership book "Good to Great," reminded me of the importance of choosing team players who are clearly the right person to "put on the bus."  A more recent management read emphasized that, "unless it is a clear 'yes' when hiring team members, then it is a 'no.'"
Rob was a clear yes from our first interaction. It may have had something to do with the way he squarely planted his chair in the aisle at the coffee shop, the first day we met. There was no way to escape his smiling demeanor and enthusiasm; I was trapped.
Known affectionately in the office by his trail name, Leg Horn, my leadership was never challenged by this former scout director, real estate agent, French horn musician and ferry boat captain. Rather, my emerging leadership and management style has been air brushed by his years of experience.
Self-proclaimed as the Road Runner (his signature cartoon character), he truly never tired in his commitment to the vision and mission of this agency and created measurable, relevant and creative outcomes. Rob continues to be action oriented. Here are a few highlights: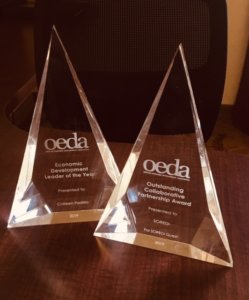 Rob crafted the Business Friendly Proclamation which was adopted by all 15 Southern Oregon jurisdictions.
Rob implemented and coordinated SOREDI Quest – which won both a national impact award from the National Association of Development Organizations (NADO) and outstanding collaboration award from the Oregon Economic Development Association (OEDA).
Rob articulated the crown analogy that we use to illustrate and broadly capture how unique every community is in our region – every one of which is a jewel in the crown that is Southern Oregon.
Rob led the effort to promptly and professionally respond to three recruitment opportunities – Lamination Technologies (Project Puzzle), Braun Brush (Project Prickly) and Rogue Valley Precast (Project Invisible) – each of which now calls Southern Oregon home and has collectively created/retained more than 85 jobs and made over $7 million in new capital investments in the region.
So you may be wondering how this farewell message about Rob Merriman has anything to do with popcorn, as suggested in the title.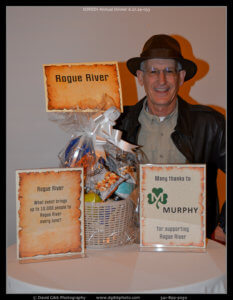 Each August we take a Staff Retreat to get away from the office for some fun. We go out to play – it's kind of like recess. But, it is play with a purpose; to learn more about one another, build each other up, answer and share our responses to multiple quirky questions I create, and let our creative energy bubble out in unexpected ways.
Three years ago, I asked each of the staff to suggest a non-monetary perk – a fringe benefit they'd love. Rob asked for a popcorn machine. Therefore, I am delivering on that promise and have ordered up a popcorn machine for his last day in the office, Friday, November 15. And as we learned at this year's staff retreat, he really likes to throw in some chocolate chips for a sweet and salty treat.
Please accept our invitation to drop by our offices on Friday, November 15, 1-4:30 pm to enjoy some popcorn and cake, give your best regards to Rob, and join us in congratulating him for a job well done. 
Popcorn dreams really do come true. While the chocolate chips are optional, I guarantee this gathering will still be bitter sweet.
Oh and Rob… after we enjoy a piece of cake, I will take back my comment about being "dead to me."
Live boldly!
Colleen Padilla, Executive Director
Trail name: "Spur"
Cartoon Name:  "Shaggy"
Spice Identifier: "Lemon Pepper"